ARTICLE
The Benefits of Rubber Mats in Commercial Kitchens
10 February 2020
Rubber Matting is one of the most essential pieces of equipment a Kitchen can use to increase safety. Find out how Rubber Matting can boost safety and hygiene for you and your staff.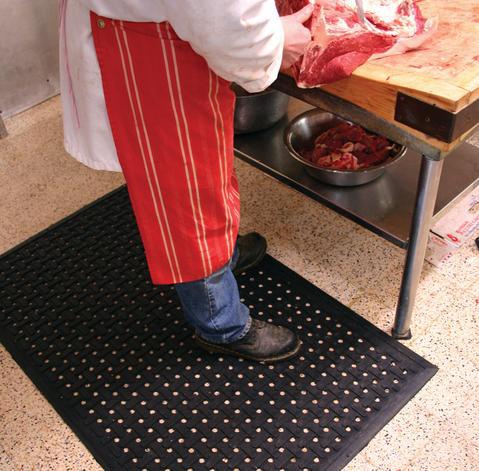 Anyone who runs a commercial kitchen is responsible for ensuring that their employees, and anyone else who may enter the kitchen, are safe from harm according to the Health and Safety Executive (HSE), and this means assessing risks and putting preventative measures into place.
With possible food spillages, overflowing or leaky sinks and pipes, trip hazards, and wet or dirty floors to consider when looking for potential hazards in commercial kitchens it is unsurprising that rubber mats are a great option due to being able to help to prevent all of these things from causing accidents.
Here we look at just some of the benefits of using rubber mats in commercial kitchens as there are a number that you may not have given thought to.
Preventing Slip Accidents
Slips and trips are the most common causes of serious injury in workplaces according to the HSE, so helping to prevent these is vital when running a safe commercial kitchen.
Rubber mats provide grip and stability so that those standing on them have traction with the flooring rather than potentially slipping on a smooth, wet surface. They also allow spillages and debris to run underneath them and collect there until they are cleaned later, which means that there is less on the floor that could cause a slip or trip.
Fights Fatigue to Boost Well-Being
Many people who work in kitchens are standing in the same spot all day which can cause achy joints and muscles, headaches, and fatigue.
By offering an alternative to standing on a hard, cold floor, rubber mats encourage those standing on them to make micro-movements which keeps blood circulating around their legs meaning that the heart does not have to work as hard to pump the blood back up and around the body.
Read more: How Anti-Fatigue Mats Work
This results in less fatigue, higher productivity, and a more motivated workforce, plus by providing a more comfortable work environment you will also find that your employees will take less time off sick for musculoskeletal disorders that are often caused by standing in the same position for too long.
Better Hygiene Control
In addition to helping employees to feel safe at work, rubber mats will also keep your commercial kitchen cleaner and more hygienic as dirt and debris will fall through the holes and be collected underneath the mat rather than being trodden across the floor as people walk around.
This is also the case if something is spilled, it will simply run through the holes in the mat and sit there until the mats are rolled up and everything is swept away from underneath them.
Protect Floors and Equipment
Rubber mats form a barrier between the kitchen floor and anything that may be dropped onto it, and this means that both the equipment being dropped and the floor that it falls onto will be less likely to become damaged.
This is especially handy if there are a lot of glass and ceramic items being used in your commercial kitchen.
The best rubber mats for commercial kitchens
Now that you have decided that installing rubber mats in your commercial kitchen comes with many benefits it is time to choose which type will suit you best.
The most important thing to consider is the material of the rubber mat that you will need to suit your requirements. Many are made from natural rubber which is perfect for floors that get wet or dirty often but are not compatible with oil and grease spillages which makes them less ideal for use in commercial kitchens.
The best option to go for is matting made from nitrile rubber as this material can withstand oil and grease spills, plus it is more resistant and has a longer lifespan than natural rubber in general which makes it a worthwhile investment.
Readers already using this type of matting will be familiar with a common problem, which is that Natural and Nitrile rubbers both look identical making it nearly impossible to distinguish between the two of them. In these cases you may with to choose a mat which is coloured, usually in Red or Blue, signifying that it is made from a nitrile compound.
See our CaterStep Red Anti-Fatigue Mat
You should opt for a design that has holes in it to ensure that you benefit from a cleaner kitchen with less slip and trip hazards, and one with a heavily textured surface will give you peace of mind that your employees will have plenty of traction with the floor as they walk around the kitchen.
This article is presented by First Mats, an online retailer of floor mats with a range of products designed to help improve health and safety for commercial and industrial businesses.
For more information, please see our product ranges here;
OTHER ARTICLES IN THIS SECTION