ARTICLE
Next generation welding helmet
17 October 2019
The new G5-01 Speedglas heavy-duty welding helmet introduced by 3M is available with two filter options.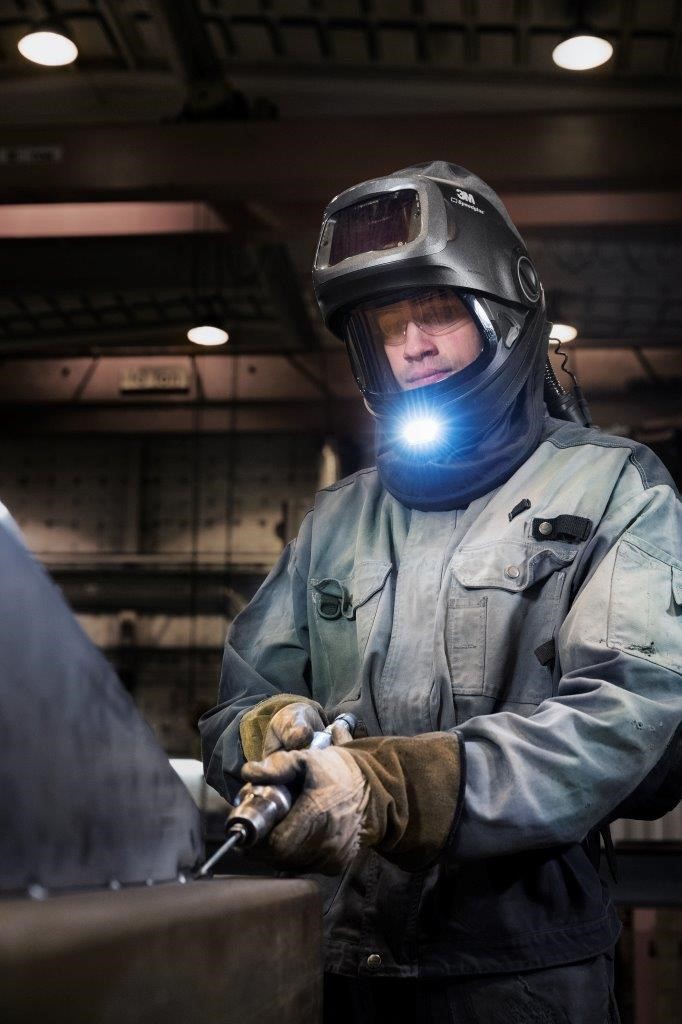 The new helmet also offers Natural Colour Technology for more realistic colour in all states; adjustable airflow; increased configuration versatility for added protection against radiation, sparks and spatter; a Bluetooth app; and an optional helmet-mounted task light.
Viewing preferences
The new auto-darkening welding filter (ADF) – G5-01VC (Variable Colour) – enables wearers to switch between a warm, natural, or cool colour preference in the dark state. This allows welders to choose the tone that provides the best viewing contrast for their weld, and comfort for their eyes. It has selectable dark shades from eight to 14 — with 14 being the darkest shade ever developed for a Speedglas ADF, making it suitable for many high-amperage welding processes.
The second ADF – G5-01TW (Tack Welding) – features a Tack Welding mode that, when selected, automatically reverts to a shade five rather than a shade three for up to two seconds, helping to further minimise eye strain. Both the G5-01VC and the G5-01TW also have auto-on and cut modes (a locked shade five), to ensure eye strain is minimised when switching from a dark to light state.
Bluetooth enabled filters
Both ADF filters are Bluetooth enabled, allowing the secure pairing of the user's smartphone to the ADF via the Connected Equipment App from 3M. Up to 10 memory modes can be programmed into the app, each with its own settings for dark shades, sensitivity and delay. In addition, a maintenance log enables the tracking of the welding helmet, as well as access to user manuals and parts lists.
Controls airflow
The G5-01 helmet from 3M has an innovative duct system that directs airflow to the user's face and visor, or a blend of the two, and the amount of air coming from the helmet's top outlet can also be adjusted while the user is wearing the helmet to ensure that eye, face and respiratory protection is continually maintained.
Suitable for poor lighting conditions
The new helmet has an optional LED task light that is powered by the Adflo Li-ion Battery Pack from 3M. This helmet-mounted light offers a bright, uniform band of illumination over the welding zone, allowing users to work in poorly lit spaces.
Highest safety class for powered air systems
Designed for heavy-duty, high-amperage welding and grinding, the G5-01 helmet from 3M connects to the Adflo Powered Air Respirator from 3M to provide TH-3 rated respiratory protection (APF 40)1. For conditions where supplied air is required, 3M also offers its Versaflo Series Regulators.
Versatile helmet
Versatility has been built into the G5-01. For extended non-welding work, the welding visor can be removed – whilst retaining the clear grinding visor - making the helmet up to 36 per cent lighter. Adjustable functions are also clearly labelled on the helmet and can be made whilst worn and wearing gloves. In addition, with interchangeable neck protection and a new headband design, comfort and flexibility have been designed into this highly versatile helmet.
For additional information on the new Speedglas Heavy-Duty Welding Helmet G5-01 from 3M, please visit: https://www.3m.co.uk/3M/en_GB/worker-health-safety-uk/personal-protective-equipment/new-featured-products/3m-speedglas-heavy-duty-welding-helmet-g5-01/?utm_medium=redirect&utm_source=vanity-url&utm_campaign=3m.co.uk/speedglasG5-01 under the word 'following'
OTHER ARTICLES IN THIS SECTION