Forklift and attachment training
18 September 2018
With the Lifting Operations and Lifting Equipment Regulations (LOLER) 98 stating that all individuals operating lifting equipment should receive the appropriate training, Contact Attachments is inviting users of forklift attachments – whether purchased from the company or not – to take advantage of its forklift, forklift attachment and lifting equipment training sessions.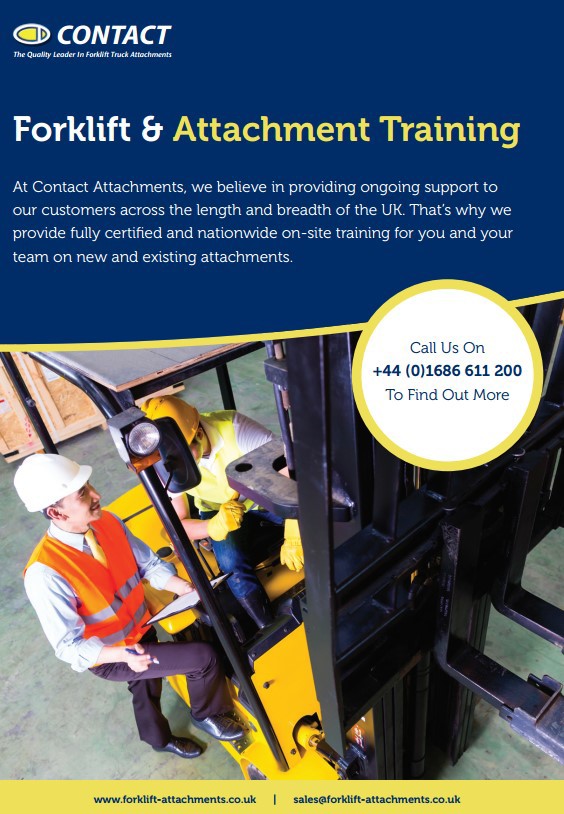 With a history dating back almost 45 years, Contact Attachments was one of the first forklift truck attachment manufacturers in the UK, growing to become a leading brand with customers based in the UK and overseas.
The company said: "While our customers buy forklift attachments which come with full operating instructions, we understand that sometimes, they do require team training sessions which not only allows companies to mitigate any potential hazards further down the line, but it ensures that staff – no matter what level of competency or experience they have – continue to undertake professional development and are up-to-date with the latest legislations surrounding equipment.
"Our combined expertise of the forklift industry enables us to not only provide training on our own attachments, but on those from other manufacturers and brands, as well as wider forklift truck training."
Based on a maximum of three trainees per session, with larger groups requiring more sessions, the training lasts 90 minutes with each attendee provided with full one-to-one attention and guidance. All of Contact Attachments' trainers are accredited to ITSSAR and NPORS, the industry's recognised training schemes for the operation of forklift trucks. Once the training is complete, attendees will be given an official documented record to certify their work.
For more information visit: www.forklift-attachments.co.uk
OTHER ARTICLES IN THIS SECTION