Put to the test
12 December 2017
Ground Control is an award-winning landscaping and ground maintenance company that has been operating for over 40 years.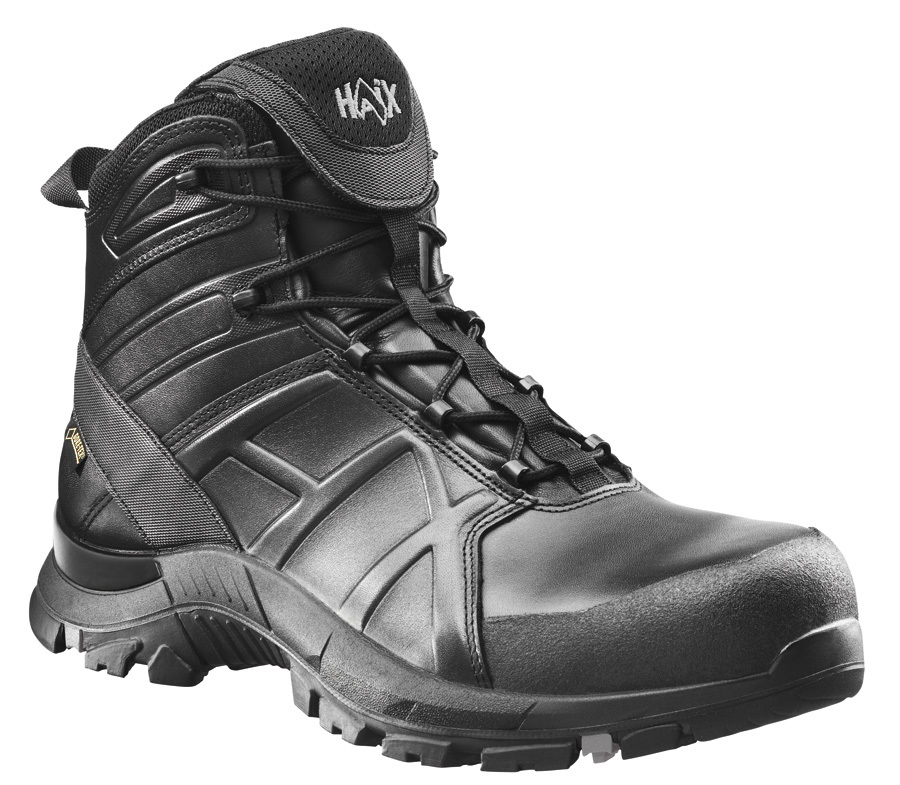 Ground Control's operatives, field supervisors and contractors work predominantly outside. Their work varies from felling trees, trawling through muddy fields and within standing water, to clearing rural and urban rail embankments. Since their work involves wet and boggy terrain, footwear must not only be waterproof but must have excellent re-drying qualities. This is important to ensure that when the boots are worn the following day they are dry and offer continued protection and comfort.
Ground Control was offered and participated in an extended wearer trial to test a new safety work boot from GORE-TEX Footwear developed with their brand partner HAIX and supplied these to employees working in the toughest outdoor conditions. Two new and updated leather boot designs, Black Eagle Safety 50 Mid and High containing GORE-TEX Extended Comfort product technology were developed, rated to footwear standard EN20345:2011 safety footwear for professional use with the classification of S3. These offer basic requirements for a safety boot, as well as closed and energy absorbing seat region, antistatic, protection from water penetration and absorption, penetration resistant and cleated sole. The boots also feature a lacing system designed so that laces don't dangle into mud or water when putting the footwear on or off.
The boots need to be flexible, with good grip, for working on boggy and muddy land, but they also need to be strong and durable enough to cope with tree-climbing, scrambling over rough ground and moving from one terrain to another. Given the typical wearing conditions, it might not be possible for boots to be taken into a warm environment to dry out, so re-drying properties are of utmost importance to ensure that the ground worker is not putting on wet boots at the start of a working day.
The boots were tested during winter 2016 and participants reported back after three months, with some wearers giving follow-up interviews early in 2017. All testers reported that the boots were totally waterproof and durable, with 93% describing re-drying qualities as good or very good and the same number said the boots were better than their previous footwear. 93% said sweating was not a problem, and comfort levels were over 70%. Flexibility and slip scored 80-90%. Overall, very positive feedback.
When testers were asked to comment in more depth on the boots, some interesting points emerged. David Grose who works with Ground Control clearing vegetation from railway lines, was pleasantly surprised. Normally he uses chainsaw boots for working on ballast, but he said "these were different, but comfy enough to wear straight away. They are waterproof, nice and light and the re-drying was pretty good". David liked the lace-up style, where laces don't drag in the mud, saying that the boots were "very comfortable in all terrains, on steep slopes, where a lot of boots rub. These don't".
Stephen Wiltshire, a tree-surgeon based in Scotland usually wears chain saw boots or wellies, but agreed to test these lighter boots. He said: "I was surprised how comfy they were straight out of the box. Unlike wellies, these never let in a drop of water and were not sweaty. I have to wear chainsaw boots for tree work, but these have been really durable. I got them free but I'd buy them."
As this test shows, wearing the correct safety footwear for outdoor workers not only provides the legal protection required but enables workers to remain focused on their tasks and work in comfort.
OTHER ARTICLES IN THIS SECTION