ARTICLE
London Underground to use proximity warning systems
20 September 2017
OnGrade has signed a new contract to supply its Radio Frequency Identification (RFID) proximity warning systems, SiteZone EasyFit and SiteZone iNstant, on plant and delivery vehicles used on London Underground's Four Lines Modernisation Programme.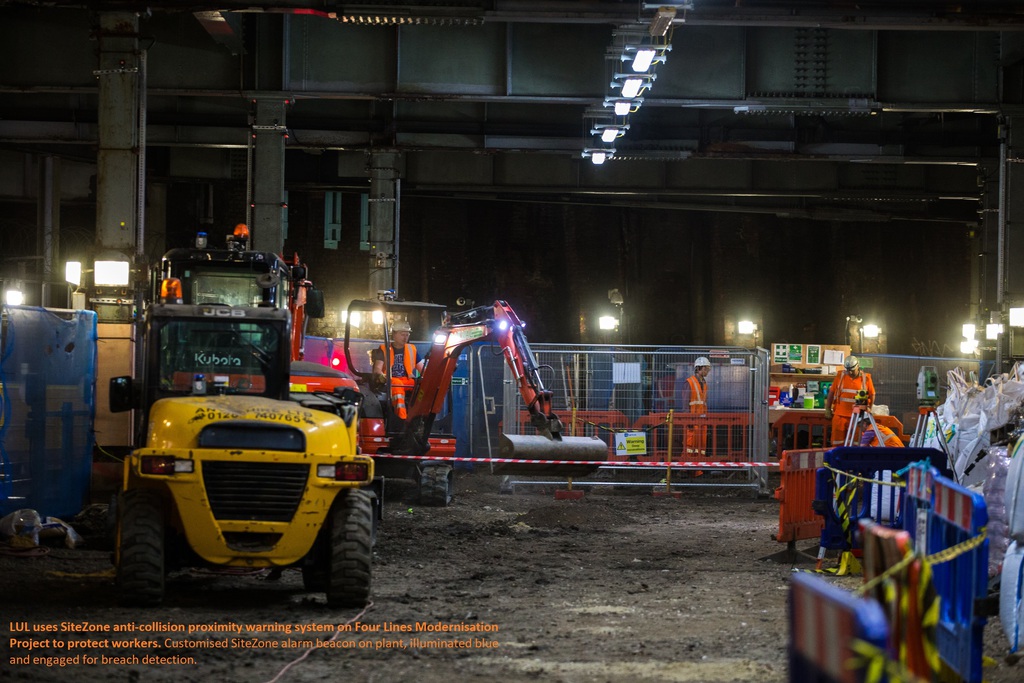 The SiteZone system will be used on construction plant involved in the re-building of signalling and control system infrastructure – this includes excavators and telehandlers.
London Underground is one of the first UK companies to specify the use of SiteZone iNstant, which is described as the UK's first wireless RFID proximity warning system.
The SiteZone systems prevent collisions between pedestrians and vehicles, which is a significant safety hazard on busy construction sites. The pedestrian and vehicle transmitters communicate with each other, providing a full 360-degree detection zone and the ability to see around corners. The on-board receiver detects the location of tag-wearing personnel and alerts the driver and pedestrian to each other's presence.
SiteZone 'EasyFit' allows for straightforward installation of the proximity warning alarm system on plant. It enables smoother transfer between machines as an 'express installation version' yet has all the functionality of the standard SiteZone system. It is efficient and takes no more than about 35-40 minutes.
SiteZone iNstant goes one step further by being completely wireless, allowing for immediate use and protection without the need for a hard-wired installation. It is ideal for application on delivery vehicles coming into a busy depot or construction site where the danger of reversing into a pedestrian is increased.
SiteZone also logs data to enable targeted training and continual improvement in site safety. By logging data of breaches into vehicle safety zones, SiteZone becomes a valuable management tool as well as an alarm system. It enables positive intervention while recording all data to help manage health and safety, both for individuals and the entire site.
By using SiteZone's data capture features, London Underground will monitor any workers' behavioural changes towards safety awareness. When the OnGrade telematics system, Oversite is introduced to the project, data can be viewed live and reports can be generated daily across the 32 sites involved.
www.healthandsafetyevents.co.uk/north
Stand K23
OTHER ARTICLES IN THIS SECTION