Provide a PAT-tastic service
13 April 2017
Shropshire-based PAT engineer Anthony Grindrod, also known as MrPATtastic, provides PAT services to a range of local clients including multi-site care homes, educational organisations, NHS surgeries and office based companies.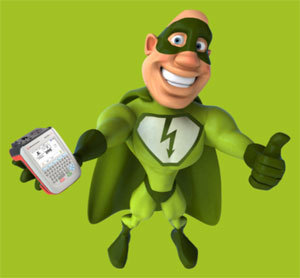 The business aim is to provide a professional and efficient testing service that is competitive for the customer but also gives them the reassurance and safety needed to ensure that they meet their responsibilities under the Electricity At Work Regulations 1989.
To do this MrPATtastic use the Seaward Apollo 500 PAT tester to carry out all the recommended safety tests for workplace electrical equipment in line with the IET 4th Edition Code of Practice, including point to point testing of fixed equipment and the testing of 3 phase devices and RCDs.
However, in combination with the PATGuard 3 software, it is the specialist data handling capabilities of the Apollo 500 that are paying particular dividends in terms of speeding up the process of appliance identification, testing and labelling.
As part of a thorough approach to workplace testing, all appliances tested by MrPATtastic are labelled with unique asset numbers included in a barcode format.
When equipment is due to be re-tested, previously tested appliances can be uploaded into the Apollo 500 so that when the barcode is scanned as part of a new test routine, the tester will automatically identify the asset, select the appropriate test sequence and record the new test results.
As a result a permanent test record for all electrical appliances is maintained at the press of a button and a traceable test history is established for all items of equipment.
In this way, as well as providing a streamlined and highly efficient approach to workplace testing, the comparison of successive test results can also provide an indication of deteriorating component condition – and potential future safety risks.
Anthony Grindrod said: "The combination of equipment numbering, testing and automatic data collection in an integrated process means I can work quickly but still provide a totally professional service and comprehensive inspection reports for the customer."
OTHER ARTICLES IN THIS SECTION