Home
>
Recognition for secondary guarding system
Recognition for secondary guarding system
09 December 2016
Nationwide Platforms' intelligent secondary guarding system, SkySiren PCS - which utilises ultrasonic sensors to minimise the risk of operator entrapment - has gained further industry recognition after being awarded 'Product of the Year' at the BSGA British Sign Awards.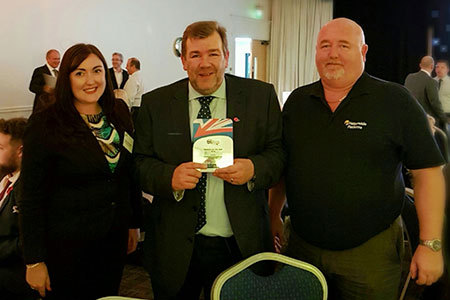 Organised by the British Sign & Graphics Association (BSGA) to recognise and reward excellence in the UK sign sector, the award categories were decided by an independent panel of industry experts. Due to the coveted nature of the 'Product of the Year' category however, the winning entry was decided by the BSGA's sign maker members, with SkySiren PCS receiving the highest number of votes.

David Catanach, British Sign and Graphics Association (BSGA) director, said: "Anything that increases the safety of people and reduces the risk of accidental damage to structures whilst working at height is to be applauded and the vote by our members did just that."

The growing use of powered access in the sign industry has made the installation of signs at height significantly safer and more efficient, however certain hazards - such as operator entrapment and accidental damage to buildings and equipment - still exist.
RELATED ARTICLES
No related articles listed
OTHER ARTICLES IN THIS SECTION