Safety laser scanner
18 May 2016
With the launch its next-generation safety laser scanner, the microScan3, SICK says it is promising a new era of improved personal safety and productivity.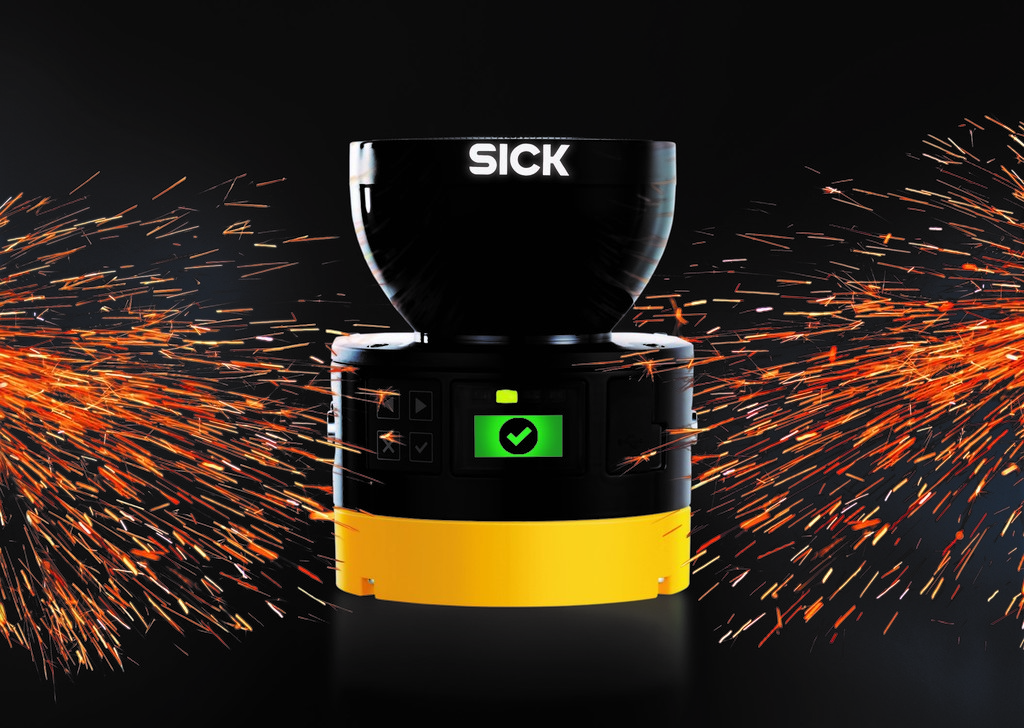 The microScan3 is the first safety laser scanner to use SICK's patented scanning technology, safeHDDMTM (High Definition Distance Measurement), based on advanced time of flight measurement.
SafeHHDMTM enables the microScan3 to operate reliably in difficult ambient light, dirty or dusty conditions where other technologies can fail. The microScan3 packs unprecedented performance into its compact size, with excellent resolution and detection of difficult-to-see materials with a wide range of 5.5 metres and 275 degrees.
The uniquely-developed and patented high definition distance measurement algorithms used for the safeHDDM™ scanning technology use multi-signal evaluation to achieve a level of measurement reliability never before seen in safety scanners. Even a very dark object with just 1.8 percent remission, e.g. black clothing, is reliably detected.
"SICK has led the way in reliable safety laser scanners for more than 20 years," says Dr Martin Kidman, SICK UK's safety specialist. "Developing the microScan3 was all about making it easy for users to optimise workflow efficiency and productivity without compromising the safety of personnel.
"SICK has revised and optimised every detail of its laser scanner technology to set a new benchmark for machinery safety. The microScan3 is a rugged, high-performing and unobtrusive laser scanner, ideal for multi-sided machinery and production line protection at access and loading/unloading points, hazard points, hazardous areas and other critical safety duties."
The microScan3 achieves up to 30mm object resolution, a protective field range of up to 5.5 metres and a warning field range of up to 40 metres. Up to eight fields can be programmed with two monitoring cases and there are three universal I/O connections which can be assigned various signals.
With a bright multi-colour clear-text display and additional status LED's, the microScan3 provides on-the-spot operational status and easy to understand diagnostics information to allow adjustments or corrections to be made locally.
SICK's new Safety Designer software makes commissioning almost intuitive and the Smart core memory retains configurations allowing for rapid device changeover. SICK microScan3 has a lightweight, rugged metal housing with vibration resistant brackets, enabling easy installation and adjustment. M12, 8-pin connectors, mini USB interface and system plug with integrated configuration memory ensure simple, low cost, smart connectivity.
For more information on the SICK microScan3, please contact Andrea Hornby on 01727 831121 or email andrea.hornby@sick.co.uk
OTHER ARTICLES IN THIS SECTION