Double girder crane
30 November 2015
Following the launch of the Demag V-type single girder crane, Terex Material Handling has extended the range to include V-type double girder overhead travelling models.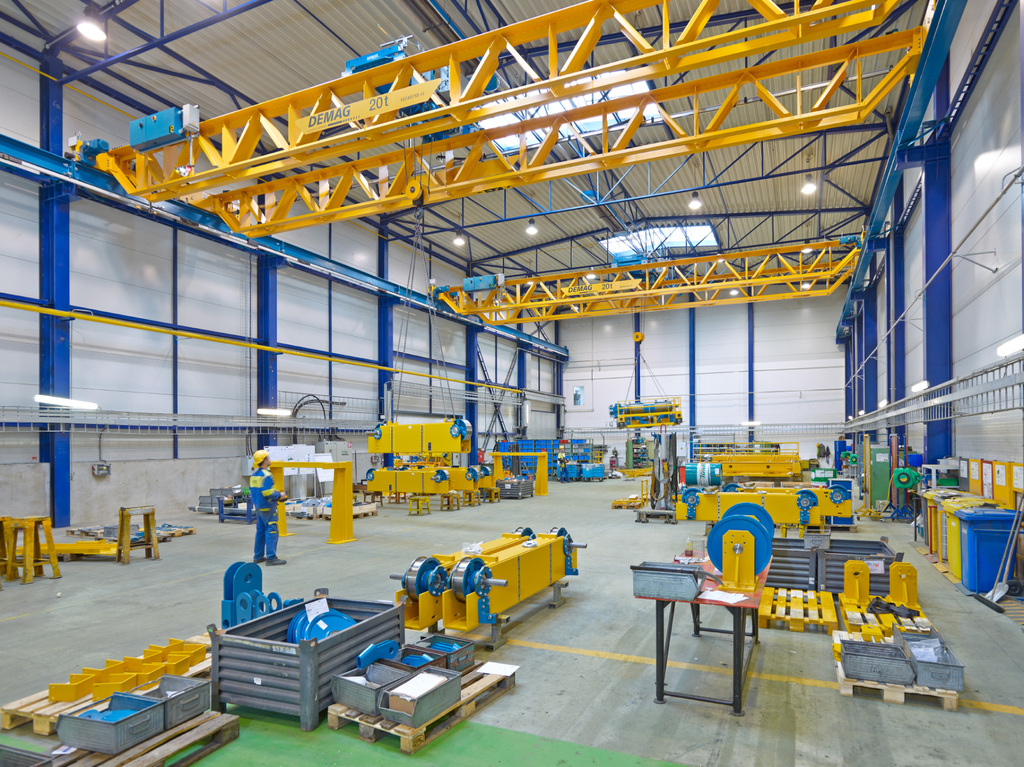 V-type double girder cranes are available with load capacities of up to 50tonnes and are offered with spans of up to 35m as standard, with longer girder lengths available upon request.
According to Terex, a significant feature of the V-type crane is the reduced weight of the crane girder compared with cranes manufactured in box section girders. This facilitates the accommodation of a rope hoist that has a higher load capacity for the movement of heavier unit loads. The reduced crane deadweight produces less wheel pressure, minimising the forces transmitted to the crane runways and existing building structures. Consequently, the new Demag V-type crane provides architects with greater freedom in planning new factory buildings.
Another advantage over conventional box section girder design is that the V-type's mechanically connected girders are inherently more rigid, enabling faster material handling and the ability to transport and position sensitive loads gently and accurately.
The V-type double-girder crane is offered in four different designs, with the side connection of the end carriages to the girder a common feature to all models. The different types are distinguished by the shape of the girder ends and their vertical connection position, ensuring that the crane design may be best adapted to the existing building. For new structures, the space between the crane and building roof may be reduced for construction cost savings and lower maintenance expenses. In existing buildings with sufficient headroom, the height of the V-type girder may be increased to further reduce crane deadweight. This feature provides benefits for applications where the load bearing capacity of the building is an issue.
The Demag V-type double girder crane offers improved precision for its crab runway. By placing the crab rail in the middle of the V-type crane girder, the distribution of forces is balanced and the crane girder remains free of any torsion. The V-type design, with vertical struts, means that the load dependent forces exerted by the rope hoist crab are transferred vertically to the girders, resulting in minimised wear on the crab rail and crab trolley system. This ensures that the track gauge of the crab runway is maintained precisely.
The V-type double girder design allows much more light to pass through it than traditional solid crane girders. This improves line of sight within the building and creates a brighter and more pleasing workplace for a safer working environment.
OTHER ARTICLES IN THIS SECTION