ARTICLE
Securing better handling
22 June 2015
Leading names in the design, manufacture and distribution of window and door hardware, locks and reinforcements are Fab&Fix, ERA and EWS, all of which are part of Grouphomesafe.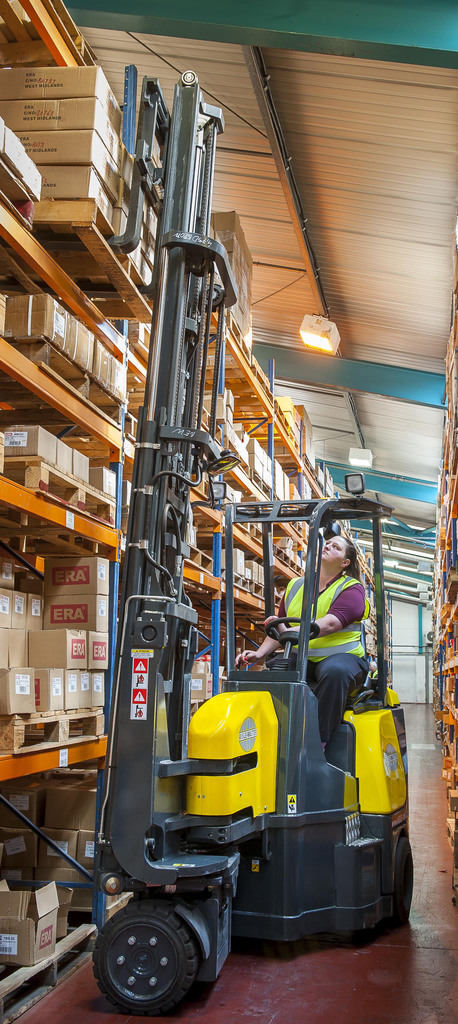 The volume of materials handled at the companies' respective sites requires streamlined handling and optimum storage capacity and five Aisle-Master articulated forklifts are deployed to guarantee this.
The trucks have replaced older articulated forklifts at ERA's facility in Willenhall and at EWS in Wolverhampton, with Fab&Fix in Coventry using the Aisle-Master instead of a counterbalance forklift.
"The individual requirements at each site differed slightly," said group warehousing manager Peter Taylor. "But common to all were the need for reliable trucks with long battery life, better driver visibility, and indoor and outdoor capability even in bad weather."
Due to height constraints at ERA's 14,000ft² warehouse, racking is just 4.4m high so aisles need to be particularly tight to exploit the available storage capacity. The three Aisle-Masters at this site are the new narrow head 1.5t capacity 15E models, which can manoeuvre pallets easily in the 1700mm rack to rack space.
With more room to manoeuvre at EWS the company uses a standard 20SE Aisle-Master in its 20,000ft² facilities. At Fab&Fix's distribution centre a standard narrow chassis 15E operates mainly indoors, placing and picking pallets of finished products prior to dispatch to window and door manufacturers.
When deciding on replacement trucks, Peter set great store on the opinion of his drivers: "It is very important to me that drivers are involved and ultimately the choice is up to them," he said. "Following a demo the Aisle-Master proved to be an instant hit, and I am now assured of satisfied drivers who appreciate their trucks and look after them well, which is also financially beneficial. We now have versatile, universal trucks in operation which work a long shift without the need for recharging batteries so they keep up with demand across the three sites and contribute to a safer working environment."
The five trucks are on a full maintenance lease contract with Compact Fork Trucks.
OTHER ARTICLES IN THIS SECTION