ARTICLE
DDA compliant handrail
14 May 2015
Kee Systems recommended and supplied its Kee Access and Kee Klamp fittings to the University of Brighton, to provide the Falmer campus with a DDA compliant handrail system that ensures the safety of teachers, students and visitors.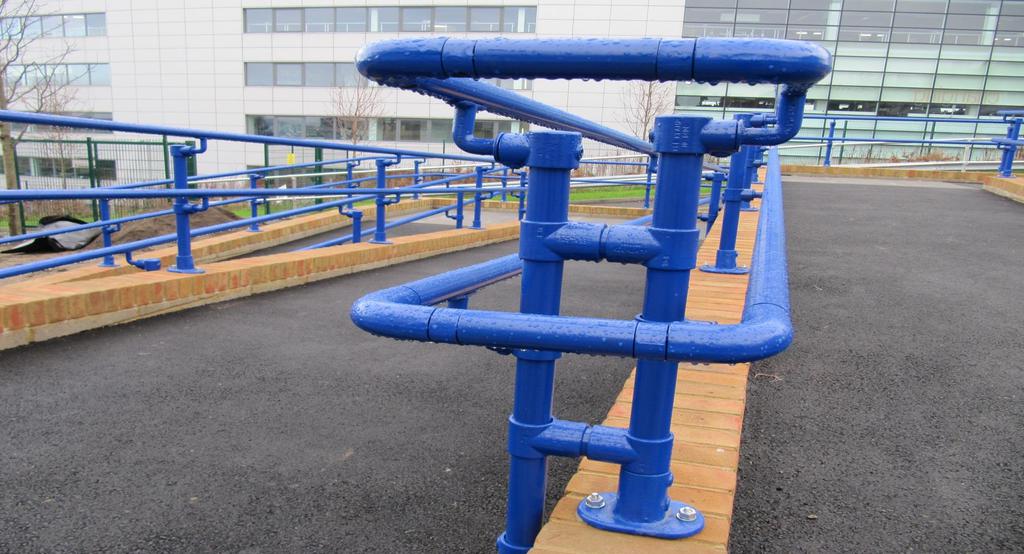 Situated in convenient proximity to Brighton city centre and overlooking the Sussex countryside, the University of Brighton Falmer Campus is home to around 5000 students. In 2014, the University began the project to provide temporary accommodation on the site of a recently demolished building into new student teaching facilities which would incorporate seminar rooms, open plan offices and meeting rooms.
As part of the project, it was important to include a handrail system which complied with DDA regulations to provide convenient ramped access to the new building's facilities. Kent based contractor, Camier Groundwork specified Kee Access and Kee Klamp fittings from Kee Systems.
"After thorough research of several different options for this project, we narrowed it down to Kee Systems," commented Dean Camier, director of Camier Groundwork. "From the moment we contacted Kee Systems, we were impressed by them, which was mainly down to their professional approach and friendly nature. Once we got to talk about the solutions they offer, we soon realised that they were the perfect choice for this project. Both Kee Access and Kee Klamp are high quality products, and would meet the demand for a DDA compliance system. What's more, Kee Systems was able to supply the products quickly and efficiently, which was extremely helpful, as we were under pressure to complete the project in a short space of time. We found the Kee Klamp and Kee Access easy to install and will definitely be using Kee Systems on future projects."
Camier Groundwork decided to install a Kee Access handrail system up the ramp, which had been power coated in dark blue. This was due to the handrail system needing to stand out from the yellow stock brick wall capping, the grey barface paving on the landings and the black tarmac on the ramp itself. The powder coating also ensures that the handrails are not 'cold to touch,' thus adhering to DDA requirements. Once the system was in place, a galvanised steel Kee Klamp handrail system was installed to the perimeter of the site to replace the hoarding.
Kee Access range of fittings allows construction of handrails compliant with legislation covering disabled access, incorporating a total of nineteen special fittings and supplied with versatility, ease and speed of installation in mind. These fittings are ideal as a retrofit solution, because the range includes an 'add-on' offset fitting to allow a new handrail to be added onto an existing structure of appropriate size. The Kee Access range can be augmented with components from the established Kee Klamp range to create a complete, cost effective answer to the requirements of Building Regulations Part M.
Kee Klamp components are versatile and suitable for use in a variety of areas where tubular structures or barriers are required. The off-the-shelf product range is said to be one of the largest on the market, providing fittings for a range of applications. All fittings are available with a combination of protective coatings applied to achieve a longer life and a better corrosion resistance. This is vital for structures in areas which may be prone to a high level of weathering or rusting and structures which are in difficult places to access and work on.
Kee Klamp components can be installed using a standard hex key with each fitting incorporating an integral set screw to lock the respective fitting safely and securely onto the tube. Not only does this method create a strong, stable and safe guard rail structure, it also eliminates the need for time-consuming welding or specialist skills.

OTHER ARTICLES IN THIS SECTION