New Showa S-TEX 376 protective glove allows safe handling of oily components with sharp edges
26 February 2015
The new Showa S-TEX 376 protective glove has been added to Globus' portfolio to provide a reliable solution to workers in all industries, for the secure handling of oily components and materials that present a high degree of mechanical risk.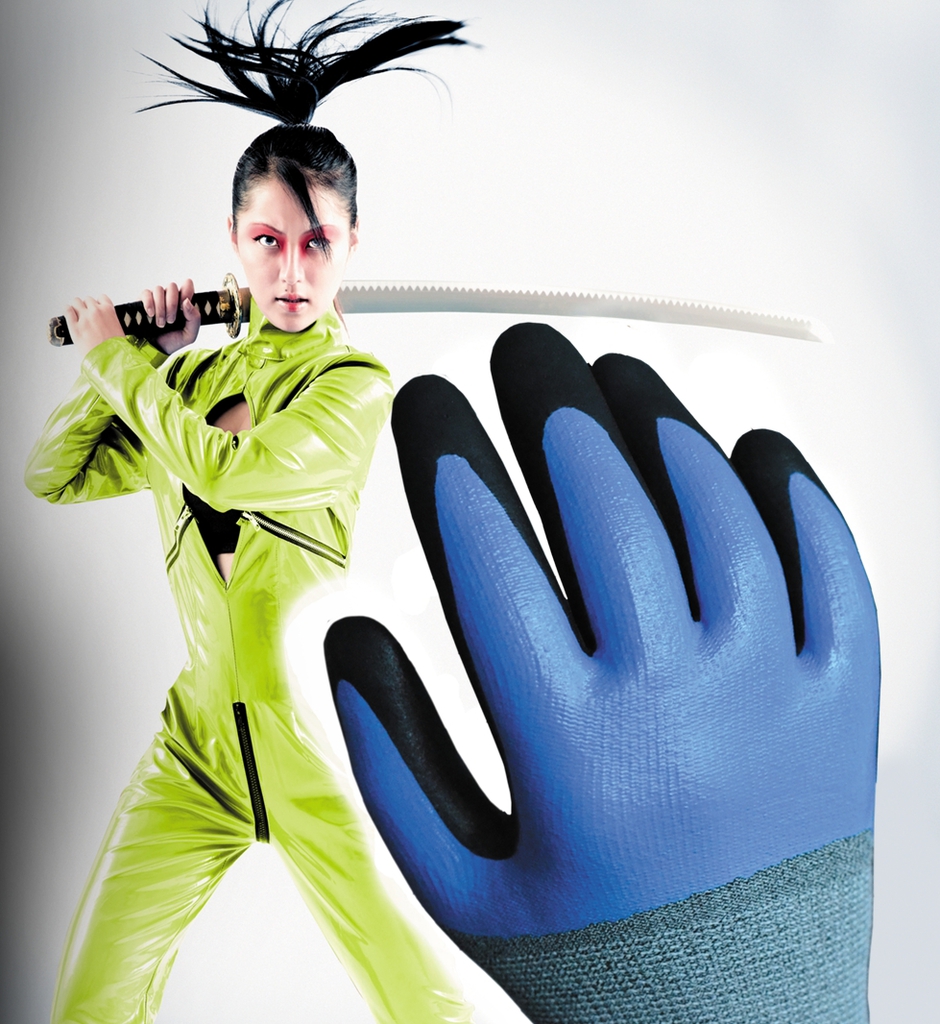 Injuries to fingers and hands rank as the highest of all workplace injuries and are also the most preventable. Laceration injuries can also be incredibly costly both financially and in terms of the quality of life impact. The Occupational Health & Safety Administration based in the US (OHSA) estimates that the combined indirect and direct costs of a laceration injury are £23,700 with downtime, loss of productivity and potential legal costs all contributing to that figure.
In addition to cut protection, the glove is comfortable and allows hand dexterity so that performance is not compromised. The S-TEX 376 glove is made using SHOWA's Hagane Coil technology and offers Level 4 (EN388) and 2280g (ISO 13997) blade cut resistance to help users to work safely and comfortably when handling objects with sharp edges and slippery surfaces. Of note, the glove's ISO 13997 cut-resistant performance significantly outperforms other equivalent market-leading gloves by at least 1000g. The three-quarter nitrile coated base protects from oils, grease and abrasion whilst an additional coating of nitrile foam covers the palm and fingertips to provide long lasting grip in wet and oily conditions.
Showa's patented Hagane Coil constituent within the lightweight 13 gauge liner combines Hagane stainless steel with polyester to provide extremely high levels of cut resistance. It uses a unique coiling technique that twists the polyester yarn loosely around the stainless steel core. This allows the steel core to be protected when the hand bends and flexes for maximum protection, comfort and performance. It may be interesting to know that Hagane steel is the high carbon steel used in forging Japanese Samurai swords.
Globus, a world leader in protecting hands, has developed a range of effective hand protection solutions to perform well across a spectrum of industries and to protect from impacts, chemicals, cuts, abrasion, water and thermal hazards. As well as offering protection, gloves should be comfortable to wear and provide an ergonomic fit. This can help to reduce the incidence of workers removing gloves who find them uncomfortable and subsequently putting themselves at risk.
Steve Shale, Marketing Manager of Globus said, "It's always good to enhance our range with gloves that will have a significant and positive effect on wearers' safety – this glove offers protection against cuts and lacerations, which are all too common in industry. Workers shouldn't be at risk of getting cuts to hands caused by ineffective hand protection. When hand safety challenges are analysed, specific task-related gloves can be specified that not only protect the workforce, but encourage productivity too."
For more information on this or other gloves across the Globus range, visit www.globus.co.uk, call +44(0) 161 877 4747 or e-mail: gloves@globus.co.uk.
OTHER ARTICLES IN THIS SECTION