Prime time noise measurement
03 December 2014
When the BBC needed a noise expert to appear on its flagship The One Show, the broadcaster approached Cirrus Research.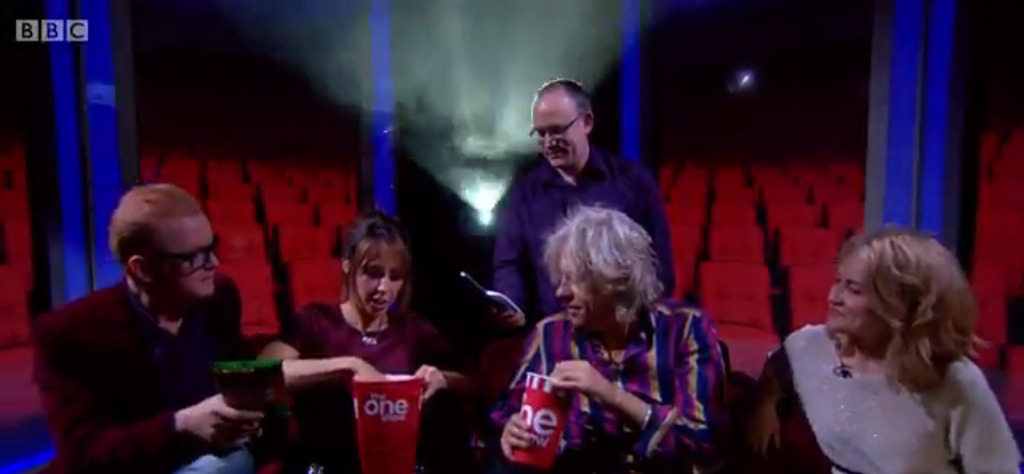 The current affairs programme was covering a story about movie etiquette, following on from a national survey that looked at annoying habits when people are sat in the cinema.
Presenters Chris Evans and Alex Jones needed a noise expert to take audio readings in the studio as part of a live TV discussion on the rights or wrong of movie-going behaviour.
Cirrus' product development specialist James Tingay had to hot foot it from the Head Office near Bridlington to the London studios for rehearsals and the live show on Friday night.
"It was all a bit surreal," said James. "One minute I am in the office minding my own business, the next I am heading down to London and chatting with Chris Evans and Sir Bob Geldolf who was also on the show that night."
James' five minutes of fame included him explaining about his job and then using the Cirrus Optimus Red sound level meter to record how much noise the celebrities made when they were involved in cinema activities such as munching popcorn, crunching crisps or slurping soft drinks.
Alex putting away the popcorn recorded noise levels at 75dB, Chris came next with crisps at 85dB, Sir Bob slurped away at his drink at a respectable 87dB but it was film critic Antonia who came out top of the annoying noises with a bag of sweets at 89 dBs.
"It was an interesting little experiment," added James. "But as annoying as these cinema habits can be when you are watching a film I don't think they are going to damage anybody's hearing - unless something gets thrown at them!"
Top of the most annoying habits, according to the survey, were people who do not turn their phones off, or even take calls whilst the film is on.
James is now back to his day job with the Cirrus R&S department but is available for more TV work if the public demand it, he says!
For the One Show, James used the Optimus Red sound level meter, suitable for capturing this type of occupational noise. The meters have been designed with ease of use as the most important feature which lets you get on with measuring and controlling the noise. They incorporate a clear, high resolution OLED colour screen, a wide 120dB measurement span (up to 140dB (A) and 143dBC Peak) and simultaneous measurement of all available parameters.
No setup or complicated configuration is needed.
OTHER ARTICLES IN THIS SECTION