Track & report HAVS
29 October 2014
Reactec has launched a new automated tracking and reporting system which protects employers and employees against HAVS and helps businesses identify cost savings through tool and operator deployment.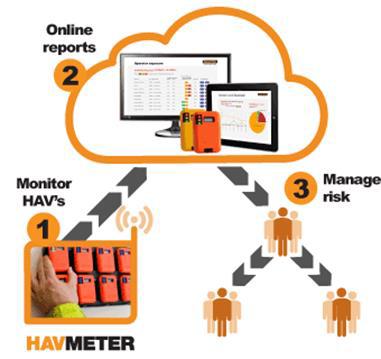 Using figures from the Construction Skills Network, Reactec has identified that as many as 658,870 construction sector employees in the UK working with vibration equipment could be at risk of developing Hand Arm Vibration Syndrome (HAVS).
The Reactec Analytics Platform combines the HAVMETER with a cloud based reporting platform and automated data collation to deliver a more practical and effective solution to assess and control HAVS risk, optimise productivity and reduce costs.
The online system provides company-wide access to intelligent and practical reports so more managers, team leaders and operators can collectively work to better understand and manage their HAVS risk in a way not possible until now.
Employers can view individual and company-wide exposure trends and see which workers have exceeded HSE daily thresholds and tool exposure levels. Information on tool rotation activity, tool performance and even over-utilisation can also be viewed to help manage worker efficiency and welfare.
Jacqui McLaughlin, chief executive officer of Reactec, said: "This system gives health and safety teams the knowledge to reduce HAVS risk while also educating and informing the operators, team leaders and other managers to undertake greater ownership of their risk exposure and reduce what has traditionally been the responsibility of health and safety teams."
OTHER ARTICLES IN THIS SECTION