Winter maintenance platform
27 November 2018
During winter, ice slabs and lumps of snow falling from truck roofs are a potential hazard for traffic.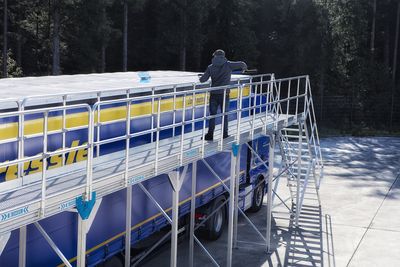 To prevent this, Zarges has developed a modular de-icing and maintenance platform for trucks. The platform has an adaptable length and can be accessed via a flight of stairs.This allows snow, ice, water and dirt to be quickly removed in a safe and economical manner.
The work platform is frost-resistant down to minus 30 degrees Celsius. A telescopic scraper can be used to remove snow and ice at the platform's working height of 4.80 to 5.00 metres. The all-round railings and anti-slip, open-grid steel surfaces on the treads and platform reliably ensure a safe working environment.
The Zarges construction is especially sturdy and excels in terms of its quality and user-friendliness. Thanks to its innovative connection system, the de-icing platform is quick and easy to assemble and can be accessed comfortably using a staircase with a 45-degree incline. Because of the modular design, the 6.0 metre-long base module can be extended as required by adding a 6.0 or 2.0 metre-long extension module.
This allows cleaning and maintenance work to be carried out safely on a truck's roof. Another advantage is that Zarges no longer customises each de-icing platform to a specific order, but rather produces standard modules. This means that the product now costs less and can be delivered more quickly than before.
"We have further developed our special solution. To achieve this, we conducted a survey among various users and made improvements to specifically address their needs," says Zarges product manager Markus Nowak. "We subsequently worked together with a haulier to test out the work platform in actual use – it was met with an enthusiastic response."
OTHER ARTICLES IN THIS SECTION