Full speed ahead for battery box
16 May 2019
Zarges' K470 battery boxes are used by many Formula E teams to store and transport the lithium-ion batteries used by the teams in their cars.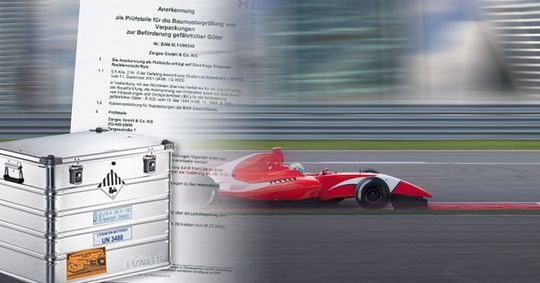 Lithium-ion batteries are used in Formula E racing for a number of reasons: safety, response time, and flexibility of packing options to fit into cars. Advancements in battery technology mean they play a vital role in getting the cars out of the pits and speeding around the track. Nevertheless, lithium-ion batteries also have to be handled with care as they are likely to catch fire if they have a defect.
The Zarges cases are specially designed and approved for the transportation of hazardous goods, so can be used for both intact and defective batteries as they have a fabric lining that foams when heated to coat any batteries that are defective.
Neil Harper, sales manager at Zarges, explains: "Formula E racing is fast, exciting and technically challenging. The cars are some of the best engineered machines in the world, and they travel all over the globe. Using our K470 battery box gives top teams peace of mind that they are transporting the batteries in the safest way, and ensures that they can mitigate any risks should any damage arise to the batteries."
The shipping or disposal of lithium-ion batteries, defective or intact, is subject to strict safety regulations, and as Formula E is a global sport, teams must ensure they have the correct transportation equipment. In addition to the glamour of racing, lithium-ion batteries are used in a huge range of day-to-day devices, from power tools to e-bikes, so it is vital that they are handled with care.
OTHER ARTICLES IN THIS SECTION