Access solutions for commercial vehicles
15 October 2019
Following its entry into the aviation and rail transport sectors, ZARGES is now expanding into the road segment, adding height adjustable work platforms and access solutions for road vehicles to its range.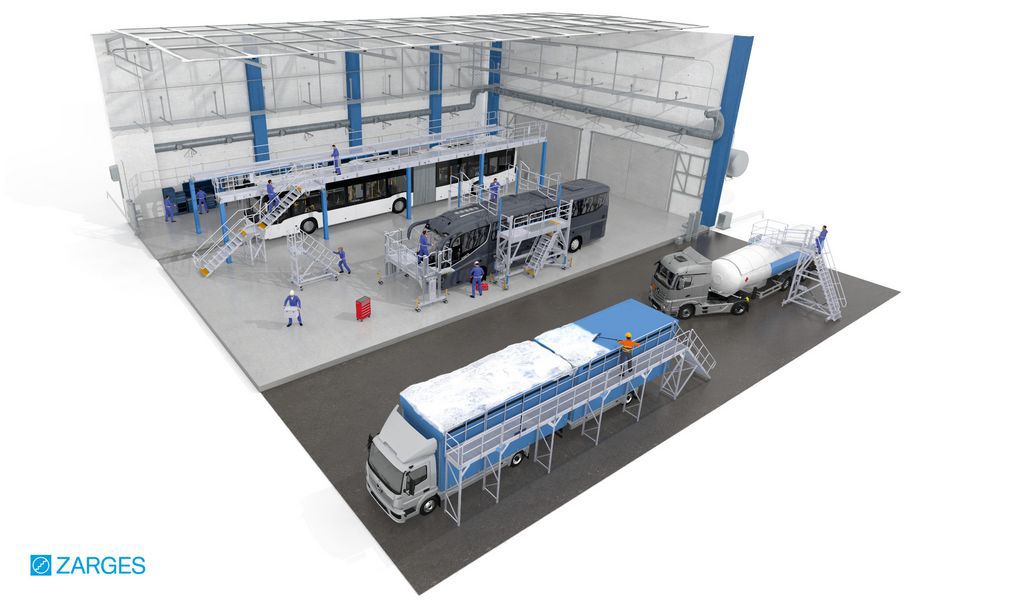 Work on buses, lorries and other commercial vehicles is often performed under conditions that require special safety precautions. To minimise the risk of accidents happening to maintenance technicians and mechanics, ZARGES has introduced a series of height-adjustable products into its portfolio of work platforms. These work platforms and access equipment can be designed and made to a customer's specific requirements. Thanks to ZARGES' many years of experience as a specialist in access, packaging, transportation and storage solutions, users can benefit from having enhanced safety and short delivery times.
The company is now also offering equipment that facilitates access to a lorry's cargo space in response to the growing awareness of the need to enhance lorry drivers' safety. Furthermore, thanks to the combination of the lightweight aluminium construction and the in-house developed height-adjustment feature, many of these mobile maintenance platforms can be moved and operated easily by just one person.
Customised solutions with short delivery times
Users also have the option of putting together the right solution for their needs from a wide range of access steps with platform, front access platforms, and roof access platforms and stands. To do so, they can use the online configurator or approach their local ZARGES sales office for on-site consultation. Generally, all products can be customised to suit the dimensions of the vehicle to be maintained without resulting in long delivery times. ZARGES also ensures that these products comply with the standards EN 14122, EN 131-7 and EN 1090.
"Having flexible and safe access to every area of a commercial vehicle is a requirement to help ensure maintenance or routine work can be performed smoothly and prevent workplace accidents," says Joost Knapen, ZARGES head of marketing and product management. "We draw on our decades of experience to achieve cost-efficient solutions that offer the highest level of safety."
A brochure provides an overview of ZARGES products for this sector.
OTHER ARTICLES IN THIS SECTION