ARTICLE
Advanced's intelligent fire panels protect prestigious office building
02 September 2019
Intelligent fire panels from Advanced have been installed in Condor House, a £134m London office building.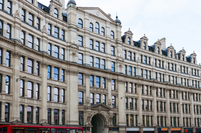 Situated in the prime London business address of St Paul's Churchyard, the nine-storey commercial premises, Condor House, stands adjacent to St Paul's Cathedral and just metres from Fleet Street.
Comprising 110,000 sq ft of high-quality office space, Condor House is home to a number of professional services firms including financial services provider Barclays Capital and investment bank Moelis & Company. Hailed by the installers as the 'Engineer's choice', a network of Advanced's flagship 4-loop MxPro 5 multiprotocol fire panels have been installed to protect the site.
Responsible for the complete replacement of all elements of the integrated fire detection, voice alarm and fire telephone system installed at Condor House, including design, installation, programming, testing and commissioning, were Essex-based firm and Advanced partners, WFP Fire and Security.
The 'closed' nature of the system meant that the cost for alterations and maintenance was higher than the market price of an 'open' system. WFP integrated the MxPro 5 open protocol control panels, that recently received FM Approval to the EN54 standard, alongside Apollo's XP95 range of detectors and interfaces. Advanced's PC-based graphical interface package, detailing the building layout to make it straightforward for the security team to have visibility and control over the fire system, was also provided.
During the project, WFP enlisted the support of Advanced's AdSpecials department to design and build several custom panels including 200 zonal indicator panels, sprinkler indication panels and bespoke plant with key switch isolation controls to be installed in mobile racking units alongside the six 4-loop fire alarm panels. For customers requiring custom fire panels, Advanced's AdSpecials team will work with them to design and manufacture unique panels and control interfaces for its fire systems, whatever the installation challenge.
WFP Fire and Security's Contracts Manager, Scott Wright, said: "From a technical standpoint the design and implementation of the fire system at Condor House required intricate planning and execution. We consider Advanced as the engineer's choice of product when it comes to fire alarm control panels as it's one of the most versatile 'open' systems on the market. The end result is a fully up-to-date fire detection and voice alarm system ready for 10-15 years of service."
Approved to EN54 parts 2, 4 and 13, MxPro 5 panels can be used in single loop, single panel format or easily configured into high speed, 200 panel networks covering huge areas and tens of thousands of field devices. Advanced's ease of installation and configuration and wide peripheral range mean that MxPro is customisable to almost any application and can be found in challenging and prestigious sites around the world.
Ken Bullock, Regional Sales Manager, said: "This project involved a major upgrade from the old closed protocol system. Advanced MxPro 5 panels are compatible with detectors from four of the biggest manufacturers: Apollo, Argus, Nittan and Hochiki. Our panels and compatible field devices are available from a wide range of distributors putting the customer in charge of their budget. The MxPro 5 range of alarm control equipment was specified because of the openness, flexibility and performance and we were thrilled to work with WFP to provide the solutions they needed to make this extensive retrofit a success."
Advanced's products include complete fire detection systems, multi-protocol fire panels, extinguishing control, fire paging and false alarm management systems. More details can be found on the website: www.advancedco.com
OTHER ARTICLES IN THIS SECTION