ARTICLE
Extending cranes for optimum use of workspace
03 September 2019
Demag Cranes & Components has added overhung and extending configurations to its KBK Aluline light crane system.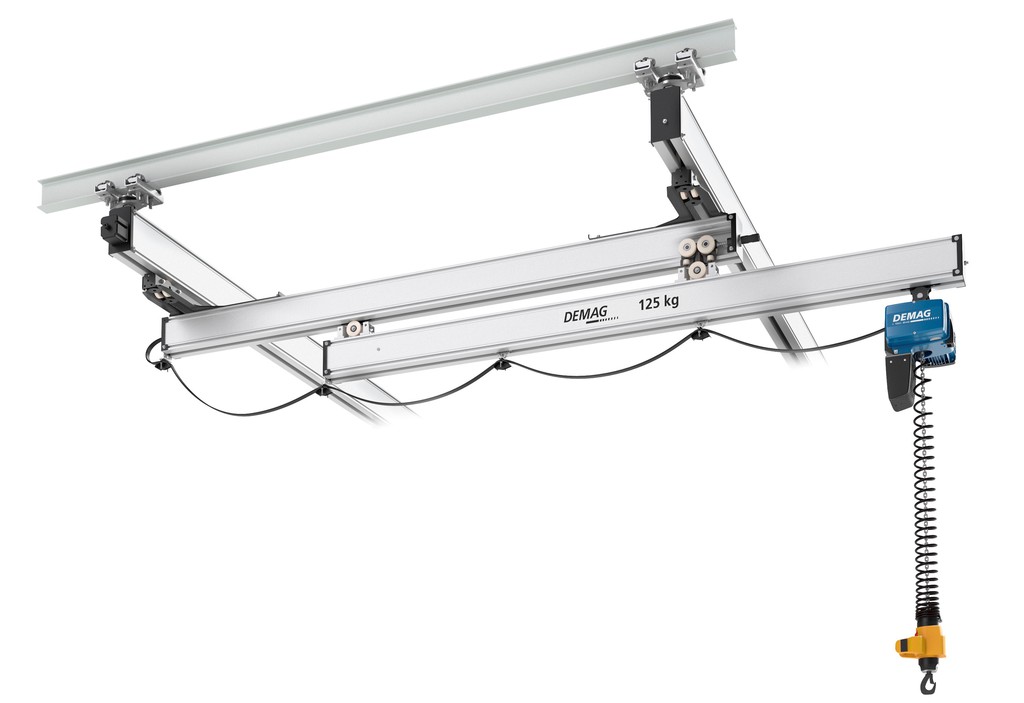 Such solutions are designed for applications where there is a requirement to move loads beyond the crane runway span dimension. They enable operators to perform lifting and positioning tasks between pillars and columns or deposit loads in aisles and free areas between assembly zones and lines.
Depending on load capacity, design and profile section size, the range can be extended by up to 3100mm. Crane extensions to either side of the track runway span dimension may also be specified, creating an even greater range of crane coverage.
Compared with Demag's conventional KBK crane kit, this configuration has a lower headroom dimension, allowing users to benefit from 120 to 220mm more hook path, dependent on profile size, for improved utilisation of space below the crane girders. Extending and overhung components may be added easily and quickly to existing KBK installations to improve productivity, without the need to install additional crane runways.
The KBK Aluline system is suitable for a wide range of operational requirements in production, assembly and shipping applications. The system is based on aluminium sections and smooth running trolleys. The result is a system that provides the operator with hands-on support for the movement and positioning of loads, improved ergonomics and reduced physical effort for material handling. It also facilitates an increased lifting path for enhanced operation of gantry mounted hoist units.
The extension length, maximum load capacity to 500kg and the crane girder length can be easily selected when designing KBK crane installations. Systems may be designed by Demag's dedicated engineering team or user specified via the company's on-line KBK Designer tool.
Sales director, Paul Bartlett, states: "The KBK lightweight crane system was first introduced over 56 years ago and the fact that it is still used today in a wide variety of workshop and assembly environments is testament to its inherent versatility and efficiency. We have continued to develop the system and this latest innovation will allow us to provide increasingly bespoke material handling solutions for an even broader range of industrial applications."
OTHER ARTICLES IN THIS SECTION