Brochure launched
08 May 2018
Global single use glove specialist Unigloves, has created a new brochure bringing together its latest high performance, hand hygiene and hand protection solutions in one place.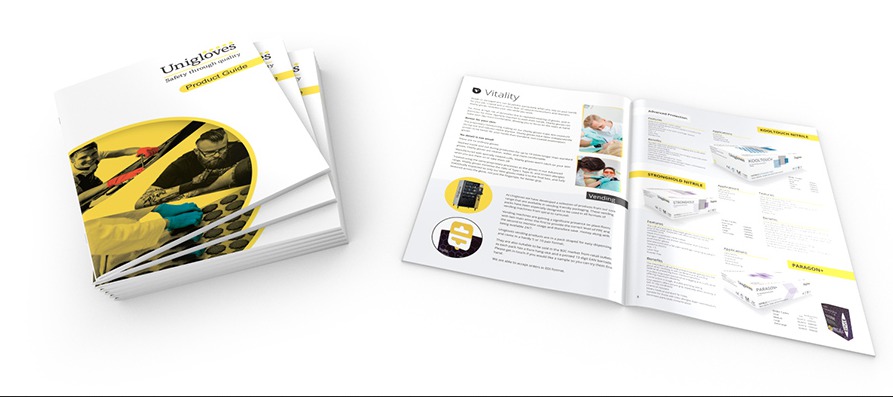 Available to download free of charge at: unigloves.co.uk/resources/literature/ the new 32-page brochure provides detailed information on the very latest glove solutions from Unigloves.
These include its skin revitalising Vitality gloves, its high performance silicone free nitrile PRO.TECT Orange HD, for heavier industrial environments and the new 12-colour Pearl range for healthcare and hygiene settings.
The new brochure is also broken down by core industry sectors – food, automotive, healthcare, tattoo - to ensure the right glove for these environments can be selected. This is backed up by a range of technical information, glove selection guide, glove sizing guide and an overview of existing glove standards.
With a global customer base stretching over 50 countries, Unigloves manufactures billions of gloves every year and has built its reputation on excellent customer service and its focus on 'Safety through Quality'.
Innovation is a key focus of the Unigloves approach which has seen it recently launch Europe's first nitrile antimicrobial gloves, Fortified, incorporating Silver ion technology, proven to destroy 99.9% of bacteria.
"The new brochure is a fantastic resource for anyone with the responsibility for identifying and selecting single use specialist gloves for use across a wide range of industry sectors including, automotive, general manufacturing, food and drink processing, healthcare and pharmaceutical," said Unigloves Marketing Director Donald Gillespie.
"The combination of detailed product information, features, benefits and wider resources and information guides helps the glove selection process become a much simpler process," he added.
RELATED ARTICLES
No related articles listed
OTHER ARTICLES IN THIS SECTION