ARTICLE
Mobile technology webinar
18 September 2017
Even though health and safety as a function is still at a relatively early phase of adoption when it comes to technology, the use of mobile devices and software is commonplace amongst forward thinking companies.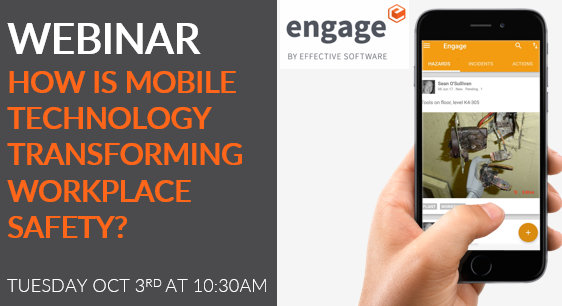 The ability to replace labour intensive and paper heavy tasks such as audits and inspections is recognized as the main motive for adoption.
Effective Software believes that mobile technology has so much more potential. It is hosting its "How Is Mobile Technology Transforming Workplace Safety?" webinar and wants to share how its new mobile app Engage can transform the way your workplace approaches health and safety.
Topics for discussion include: Engage: How can employees positively engage with health and safety?; Enable: How can employees be an integral part of your safety management system?; Empower: How can you supply every employee with the right safety information to make better decisions?; Enjoy: How can you inspire employees to enjoy being part of a positive safety culture?
The webinar will take place on Tuesday 3rd October at 10:30AM GMT. It will last for approximately 20 minutes and will feature the company's CEO Darragh Geoghegan and CTO Sean O'Sullivan.
Register to attend or receive a recording of the webinar here.
OTHER ARTICLES IN THIS SECTION