ARTICLE
Protect personnel on walkways
30 May 2017
Walkways on dangerous surrounding should be well designed to keep employees and contractors safe, explains Westmark.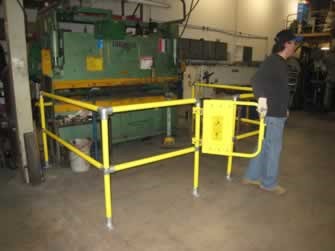 Dangerous surroundings are for example walkways at height, walkways in dangerous locations where hazardous equipment is located, on the top of ladders, on locations where moving vehicles can be a threat to pedestrians, or where permanent machinery is installed with moving components.
Slip, trips and falls contribute to the highest incident rates in heavy industries. A lot of these accidents can be be prevented with a well-designed and good prepared walkways, temporary work place, or well-designed traffic segregation schemes.
According to the latest revision 2 of the International Standardization Organization ISO 14122 Safety of machinery - Permanent means of access to machinery - Part 3: Stairs, stepladders and guard-rails the standard guard-rail is a device for protection against accidental fall or accidental access to a hazardous area, with which stairs, step ladders or landings, platforms and walkways may be equipped.
The guard-rail is built up with different elements, such as; a handrail, a knee-rail (giving extra protection against the passage of a body), toe-plate (is designed as a solid lower part of a guard-rail or upstand on a landing to prevent the fall of objects from a floor level), stanchion (vertical post) and the walking level itself.
Stand U300
OTHER ARTICLES IN THIS SECTION