Most bizarre health & safety sign winner
11 April 2017
From humorous 'wet floor' signs on the beach to absurd toilet symbols, entries have flooded in for A-SAFE's competition to find what the public perceive to be the most unusual health and safety signs in the UK.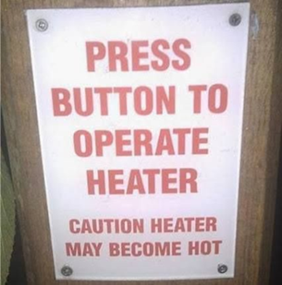 International safety barrier manufacturer A-SAFE, which claims to have invented the world's first fixed polymer safety barrier, launched a nationwide competition that invited the public to submit photos of health and safety warnings, applications and processes that they think are a step too far.
A-SAFE launched the light-hearted competition after research found that two thirds of Brits flout the health and safety rules in their workplace. The competition invited members of the public to keep an eye out for health and safety signs and snap a photo that they think best represents 'health and safety gone mad' to be in with a chance of winning a £200 Love2shop voucher.
Sophie Cowling (34), a graphic designer, was crowned the overall winner of the competition. Her comical entry captures a photograph of an empty field with a sign on the gate that reads — 'hard hats to be worn when entering the field'.
Sophie said: "The photo was taken in a little village in the Nottinghamshire countryside. I regularly pass the sign when I walk the dog, and it always makes me laugh."
James Smith, co-owner of A-SAFE, said: "Health and safety is a very important issue, and it's imperative for everyone to take it seriously, but we also know that sometimes it can be taken too far. I think the key within any business or public area is to provide sensible and clear solutions, rules and regulations to enforce health and safety."
OTHER ARTICLES IN THIS SECTION