ARTICLE
Ergonomic weighing pan
08 March 2017
​METTLER TOLEDO's newly improved XS balance line includes analytical and precision balances as well as a dual range microbalance.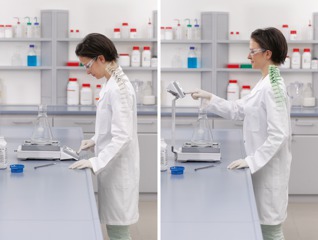 The new SmartPan weighing pan is said to deliver results up to twice as fast, even in a fume cupboard. On all balances, ergonomic design details mean users no longer need to suffer the stresses and strains from working for long periods in front of the balance.
For example, placing the terminal at eye-level on the optional quick-lock ErgoStand eliminates excessive bending of the neck and encourages a good working posture. The tilt of the terminal can be adjusted to achieve the perfect 35° viewing angle for users of different heights.
The terminal features an improved user interface for ease of operation. Shortcuts can be set up on the main screen for direct access to everyday tasks. At up to 16mm high, the large figures on the display are bright and clear to read. Eyes don't get tired and concentration remains focused on the weighing task. Figure size, contrast and brightness are all configurable to individual comfort levels.
OTHER ARTICLES IN THIS SECTION