ARTICLE
Fully motorised spindle attachment
06 February 2017
The Vertical Spindle Attachment has been designed to suit the lifting and rotation of reels of film, foil, paper and various other packaging materials which can weigh up to 100kgs.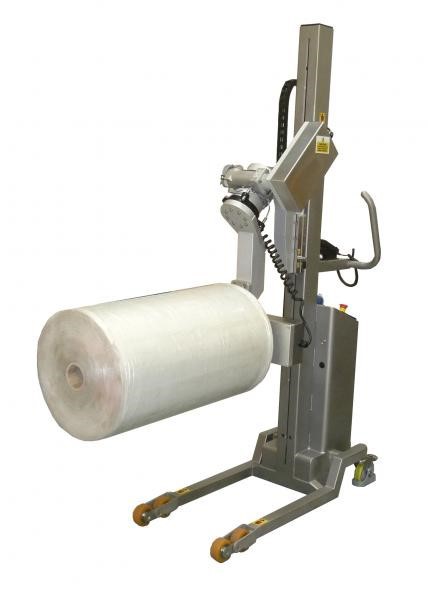 The Vertical Spindle is fully motorised. This feature provides powered drives for both the reel gripping and release as well as the reel rotation to and from the vertical to horizontal orientations. The control of these operations is made via buttons on the hand held 'pendant' control which provides easy operation and precise control.
The reels are securely gripped by the core. This mechanism has a torque limiter fitted so that the clamping 'fingers' do not over or under tighten the reel which provides the operator with complete confidence to lift and transport safely.
The attachment features a new design with enhanced durability, operating and safety features which provide a simple and safe operation. The attachment is suitable for the food industry and other hygienic applications. They are backed up by a full bespoke design service ensuring the right solution can be made to suit any make or size of reel.
All Packline attachments are fully interchangeable and can be easily fixed or removed from any model of Compac lifting machine that is fitted with the quick release system.

OTHER ARTICLES IN THIS SECTION