ARTICLE
Brushless motor range expanded
03 July 2015
Makita continues to extend the range of 18v Lithium-ion powered cordless tools that feature its Brushless motor design which is said to substantially enhance the performance and longevity of the tool.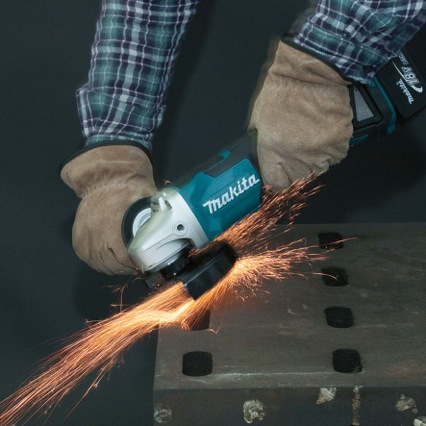 It reduces friction within the motor and thereby releases greater power from the engine. The reduction in motor friction consequently extends the runtime available from the battery and is also responsible for generating less heat. This benefit further extends the longevity of the tool and the battery. The remaining benefit is a reduction in maintenance with no brushes to be changed during the life of the tool.
The new Makita DFS452 LXT screwdriver generates a maximum of 490watts and will run up to 4,000rpm. The ¼" hex push-drive shank will comfortably drive home a 5mm drywall screw or a 6mm self-drilling screw. Weighing a comfortable 1.7kg, and with ergonomic soft grip handle, this screwdriver has a silent clutch, variable speed trigger, one-touch locator and useful lock-on button and reverse switch option.
The Makita Brushless motor is also featured in two new cordless angle grinders: the DGA455, which runs a 115mm diameter grinding wheel, and the DGA505 which will power a 125mm grinding wheel. Both grinders run up to 8000rpm and have a paddle switch control for operator safety and an automatic speed control to deliver the ideal cutting speed to load conditions for optimum performance.
The new Makita DHS680 165mm cordless circular saw also benefits from the attributes of the Brushless motor which, with a 4.0Ah 18v Li-ion battery, produces 680 watts of motor power that will run the 165mm blade up to 5,000rpm without load. Also included in this high specification tool is the soft-start function normally found in mains machines: electric safety brake, electronic current limiter, twin LED job light and battery fuel gauge.
OTHER ARTICLES IN THIS SECTION