ARTICLE
SEARCH AND RESCUE CHARITY S.A.R.A.I.D USES MAKITA TOOLS
24 March 2020
Makita has supplied a range of tools to search and rescue charity S.A.R.A.I.D, to assist with its emergency disaster response work in the UK and abroad.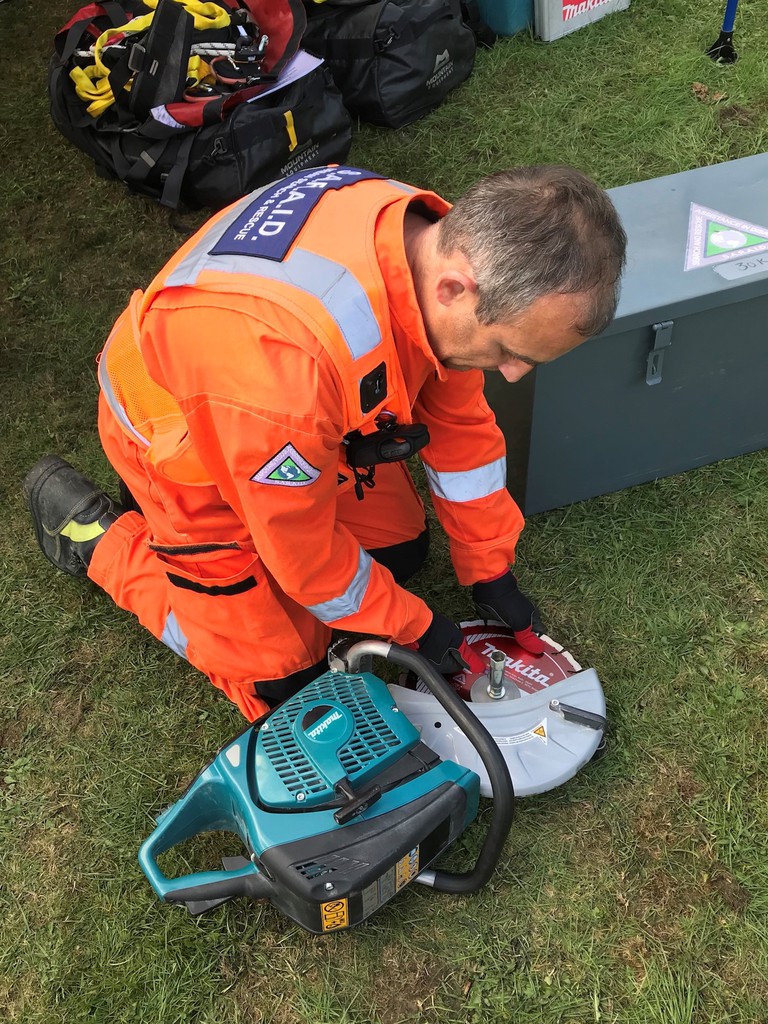 Makita's tools enable the S.A.R.A.I.D team to complete tasks such as clearing debris and shoring buildings devastated by natural disasters.
To enable S.A.R.A.I.D to create safe passages, evacuate casualties and construct temporary supports to shore up buildings efficiently and safely, Makita has supported the charity by supplying a range of power tools and accessories. The high performance and reliability of Makita tools means that S.A.R.A.I.D can respond to emergencies safely – and handle the often hazardous conditions.
Gary Francis, Chair of Trustees and Team Leader at S.A.R.A.I.D said: "During a search and rescue, speed and safety are of the essence. It is vital that we have robust and reliable tools suitable for a wide range of tasks, as we don't always know the scenario or conditions that we will be facing. We use Makita's electric chainsaws, reciprocating saws and disc cutters to cut through wreckage materials such as wood, steel and concrete, often working in extreme or dangerous environments, so it is therefore essential our teams are not only equipped with the right tools, but know how and when to safely use them."
During a recent training exercise, the S.A.R.A.I.D team was tasked with navigating through a series of challenges and obstacles – and each required the use of Makita tools. When navigating through a blocked tunnel, the team used equipment such as the JR3070CT reciprocating saw to cut through a wooden panel and create a space large enough for each team member to pass through. This process was then repeated on a concrete barrier, where the team used Makita's EK6100 disc cutter.
The use of Makita's brushless machines offers additional benefits to S.A.R.A.I.D. Unlike motors that include brushes (which make contact with the commutator within the motor), brushless motors produce less friction and are less likely to overheat during use. This means brushless machines have longer run times and experience minimal wear and tear – minimising the need for ongoing maintenance.
Makita tools also include innovative features for improved performance. For example, a range of Makita's rotary demolition hammers include a torque limiter function that prevents the tool from being overworked and damaged, which also protects the operator if the drill snags in the concrete. A number of Makita's machines are also designed for ease of use and operator comfort, including ergonomic soft grip and a compact or lightweight design. This minimises operator fatigue and means that the tools can be used for extended periods of time.
Gary continued: "Regardless of the scenario, we know that we can rely on Makita. The tools offer us the high performance and long run times that are crucial during a search and rescue. The machines are easy to operate, which is vital for the team's safety and efficiency.
"If we ever need assistance with our machines, we also know that we can find a Makita stockist almost anywhere in the world, which is another advantage when working overseas."
Paul Woodall, Key Accounts Manager – Special Projects at Makita said: "Here at Makita, we are delighted to be able to help the team at S.A.R.A.I.D with its vital work. Often, the disasters that the S.A.R.A.I.D team is deployed to are of shocking and devastating proportions. The wide range of tools we supply helps to ensure that the team have everything they need to tackle the extreme challenges that they can encounter during a search and rescue operation.
"We also provide the team with training on all of the tools used. S.A.R.A.I.D has completed our 'Train the Trainer' course – which means that a few members of the team can train the rest of the S.A.R.A.I.D volunteers. This is particularly helpful for S.A.R.A.I.D, as all members can receive the relevant training on our tools, regardless of when they join."
The team has used the tools for search and rescue assistance for a number of overseas disasters, saving countless lives.
For more information on S.A.R.A.I.D visit: www.saraid.org.
To find out more about Makita and its range of tools visit: www.makitauk.com
OTHER ARTICLES IN THIS SECTION