All chemicals labelled? Get the free CLP/GHS Guide
30 April 2015
After June 2015, all dangerous chemical substances and mixtures need to carry a predefined CLP-label (Classification, Labelling and Packaging). Now is the time to act! Take your chance and get our free CLP/GHS Solutions Guide!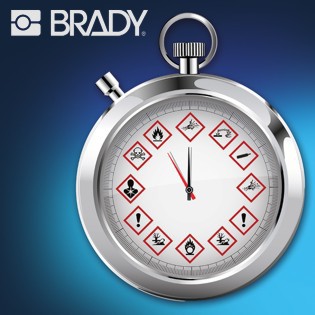 To warn employees, handlers, customers and everyone who could get exposed, a system of pictograms and safety messages has been developed to label dangerous chemicals and chemical mixtures. To comply with regulation, a CLP label needs hazard pictograms, the relevant signal word, hazard & precautionary statements, the name, address and telephone number of the supplier, the nominal quantity of a substance or mixture in the package, and product identifiers. It also communicates how to avoid health risk or to remedy exposure.
Successful CLP-labelling
Brady's quality printing systems provide companies with compliant CLP label templates and symbols, creating a flexible and easy to use in-house CLP Label printing solution. The CLP labels wizard, integrated in Brady's Markware Signmaking Software, offers a straightforward way to create compliant CLP-labels in a limited number of easy steps. In combination with Brady DIY printer, offer on-site CLP label creation capabilities that are always compliant and ready on demand.
How to get that CLP label you need by the end of June 2015? Simple!
Download our free CLP/GHS Solutions Guide!
OTHER ARTICLES IN THIS SECTION