GIS Electric Chain Hoist training course
13 February 2015
Following popular demand from its industrial clients, Lift Turn Move (LTM) has launched a new GIS Electric Chain Hoist training course.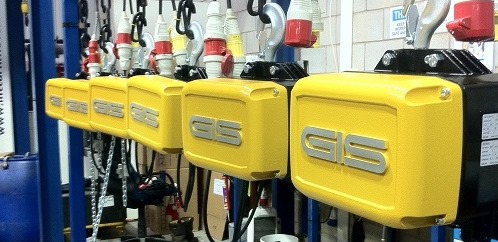 Starting with one course in February 2015, the LTM team will be teaching a two-day course on hoist maintenance and general theory. The course offers participants the opportunity to strip down and rebuild a GIS hoist, under expert instruction from the LTM training staff.
LTM have been training their customers on entertainment hoists for the last ten years. This is the first course of its kind covering the workings of the GIS Electric Chain Hoist and has been introduced following customer demand.
The course will also cover general electrical theory, correct operation procedure, maintenance, troubleshooting and health & safety, giving a good overall view of hoist theory to participants.
The two two-day courses are being held in the Village Hotel, Bromborough, near to LTM head office. Places are limited to just 14 people per course and at just £175 per person. The course fee includes tuition, course materials as well as lunch and refreshments over two days and an opportunity to use the leisure facilities afterwards.
There are currently places available on the course, running on 18th and 19th February 2015. Anyone interested in participating is encouraged to sign up via the website: www.liftturnmove.co.uk/services/gis-industrial-training-course/registration-course-1
OTHER ARTICLES IN THIS SECTION