ARTICLE
Dust & fibre removal
16 February 2015
ACI's Personnel-Cleaning Booth is designed to provide a safe and effective means of removing and collecting dust/fibres from people and clothing.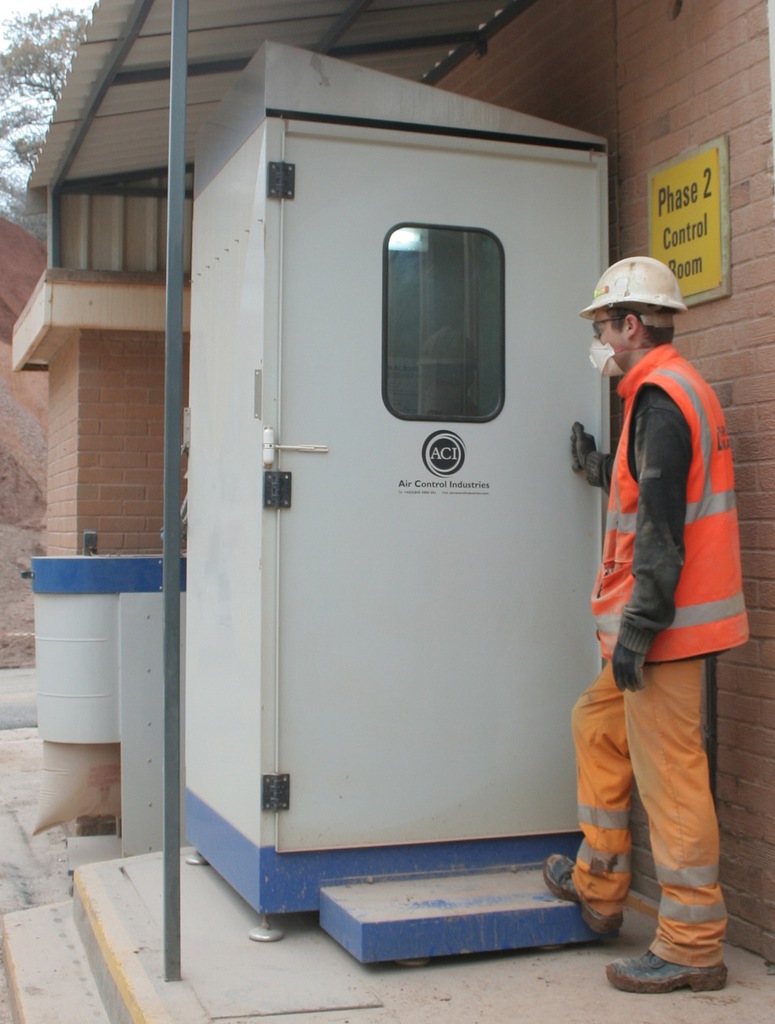 The Booth is suitable for cleaning employees' dirty work clothes to avoid exposing themselves, co-workers, or their work environment to elevated dust levels.
According to ACI, workers, without taking off clothing/PPE equipment, can remove most visible traces of any dust/fibre from themselves and clothing within approximately 20 seconds.
The Booth is a self-contained, free-standing unit incorporating the company's blower-powered, JetBlack personnel de-dusting system. The JetBlack is said to deliver a high volume of filtered air at low pressure, sufficient to remove dust and fibres effectively and safely, even when directed at exposed skin.
In operation, the integrated JetBlack is used by Booth occupants to dislodge all dust and fibres which are then drawn down away from personnel - avoiding re-coating of clothing - through a grille floor by a vacuum effect created by an external blower. The removed material can then either be gathered in a 123 litre collection drum or vented directly into an existing exhaust system.
Dust/fibre removal is achieved using the JetBlack's 1.42m long flexible hose with hand-held air direction nozzle which can be fitted with chip protection guard to comply with USA's OSHA requirements. A timer switch ensures controlled use of air.
The extraction system emits low noise levels (74dB(A)) and incorporates a 5kW blower that achieves 2,700m3/hr air flow performance. It is equipped with a 0.2 micron polyester cartridge filter that achieves 99% efficiency extracting dust from 0.2 to 2 microns in size. It also features an automatic cleaning operation to ensure consistent performance.
The Booth is a free-standing unit, with integral lighting and makralon window, that can be installed both indoors or outside. For outside installations there is an optional roof fitting.
The JetBlack delivers air at just 2.52psig/70in.swg, ensuring there is no threat to personal safety and thereby provides a safe alternative to the dangerous, yet frequently employed, practice of using compressed air for cleaning down.
The stand-alone JetBlack is available both as a wall mounted unit and portable unit. The wall mounted unit is ideal for locating at entry/exit points. The portable unit can be moved around premises as required for both de-dusting personnel and cleaning equipment
The ACI Cleaning Booth is suitable for applications in many industries: mining/quarrying, cement plants, construction sites, paper mills, textiles and many more.
"The ACI personnel de-dusting cubicle offers multiple benefits. It achieves effective cleaning of personnel, prevents recontamination of the factory via its exhaust system and helps with quality control in the manufacture of ovens." Walter Keiler, Safety Coordinator, Bosch + Siemens Hausgeräte
OTHER ARTICLES IN THIS SECTION