Smart testing
11 March 2015
Martindale Electric has launched its new ET Series of multifunctional electrical installation testers, which have been designed to meet the requirements contained within the latest Amendment 3 changes to the 17th Edition Wiring Regulations (effective from January 2015).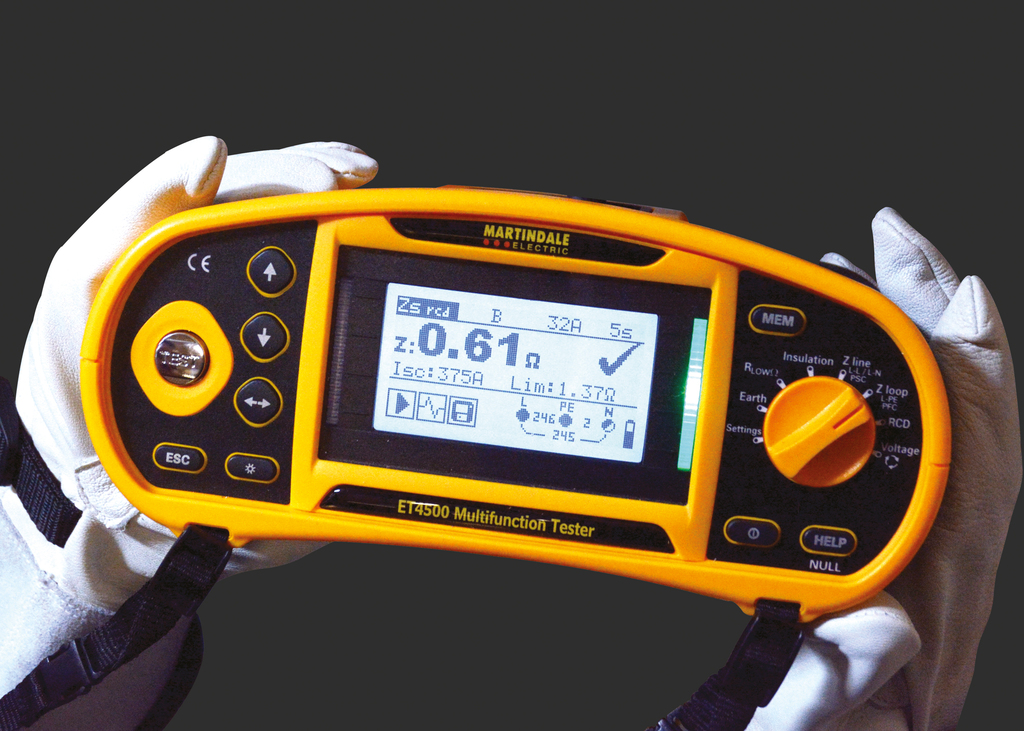 Designed to verify the safety of electrical installations in domestic, commercial and industrial installations, the new range of ET4000 and ET4500 testers are said to simplify 17th Edition testing by featuring the latest third amendment fuse tables, built in together with red and green LED indicators, for instant pass/fail confirmation of all main test functions.
On connection the ET Series also carry out an automatic polarity and wiring check, identifying potentially dangerous wiring faults in advance of any testing.
The new multifunctional testers feature auto RCD functions which can cycle through all the required tests and display all four sets of results in one go and on one screen. This is said to be particularly useful with the increasing use of RCDs following the changes in amendment 3.
According to Martindale, these are the only multifunctional testers on the market to have the new loop impedance limits built in and new time saving features making testing to amendment 3 straightforward. Key measurement functions include Help menus available at the press of a button, while the testers feature input protection and a CAT IV safety rating.

Two of the testers which use True RMS (TRMS) voltage measurement, the ET4000 and ET4500 are designed to ensure that the supply voltage can always be measured accurately and is within the Cmim limits defined in amendment 3. Both models also include phase sequence indication.
The ET4500 tester can also be used to carry out 3 wire earth testing and has onboard memory to store and download all installation test results for documentation. It is supplied with low loss AA rechargeable batteries which can be recharged on site with a mains adapter or optional in car charger.
Both the ET4000 and ET4500 multifunctional testers come complete in a 'Test and Go' carry case, allowing leads to be connected and testing to be carried out without having to remove the tester from the case.
Both models are supplied with a full range of accessories, including Martindale test leads with clips and prods, all terminated with industry standard 4mm plugs. The Martindale remote start probe with test button is included as standard, allowing one handed measurement, in those areas that are hard to reach.
Designed to save time and get up to speed with changes to the 17th Edition Wiring Regulations, the new multifunctional testers form part of a complete range, for electrical, installation testing and safe isolation available from Martindale Electric.

OTHER ARTICLES IN THIS SECTION