Glittering evening of awards
02 October 2014
Two awards, for Outstanding Contribution and Commitment to Federation Activities, were presented at a gala meal hosted by the BSIF.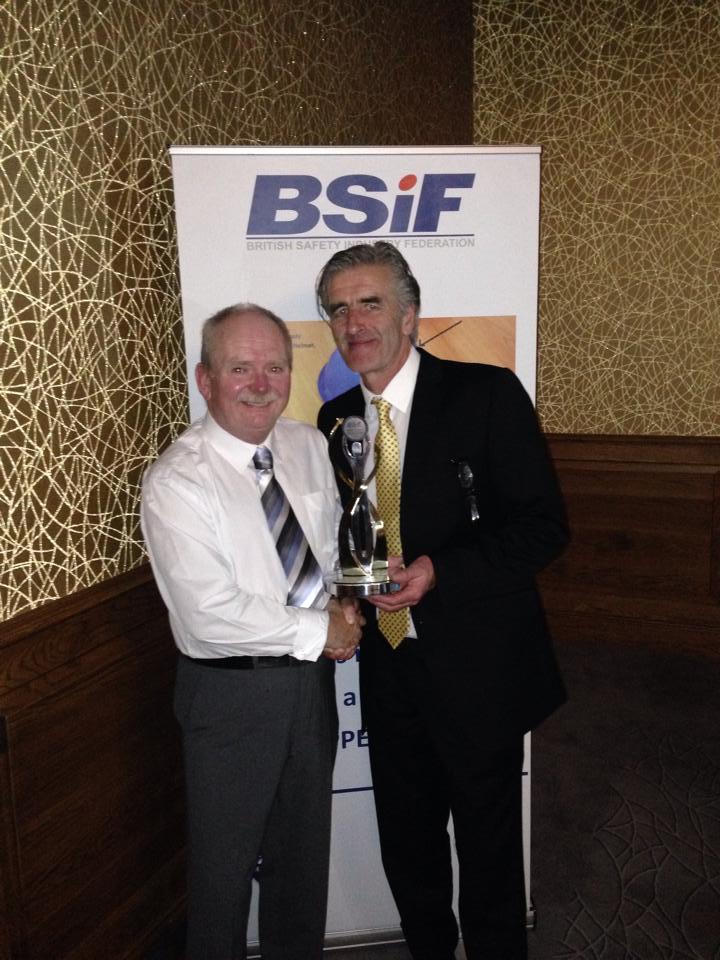 The winner of the Outstanding Contribution award was John Cairns, chairman of Safety Groups UK. The McOnie Agency, sponsors of the award, presented John with a trophy in recognition of his notable successes.
Working in the safety industry since 1974, John plays a critical role in the network of local Occupational Health and Safety Groups located throughout the UK. He is strongly committed to promoting safety and health nationwide and has won several awards for his fantastic achievements, including the 1st Winner IOSH UK Innovation Award in 1995 and the 2010 IOSH UK Award for Partnerships. He has also been the PPE officer responsible for 3200 fire fighters protection at Strathclyde Fire & Rescue, introducing and managing a new fire kit.
Alan Murray, CEO of the BSIF commented: "We are honoured to present John with this highly deserved award. The BSIF are delighted to have individuals like John who constantly strive to improve occupational safety for all, representing our fundamental values as an institution."
Mary D Fitzgerald, commenting on behalf of The McOnie Agency, described John as "a beacon of bright light in the world of occupational health and safety and said it was a privilege to present the award to him."
Alan McArthur, of 3M UK, won the Commitment to Federation Activities award. Alan is a prominent figure within the BSIF and is currently the chairman of the Respiratory Protection Product Group. He has been instrumental within the development of the Federation, constantly developing new, relevant initiatives in the promotion of best practice for the industry. Alan's work within the BSIF 'Clean Air? Take Care' campaign led to a measurable increase in those willing to take guidance on the correct product selection for respiratory hazards.
Commenting on this award, Alan Murray said: "This award is recognition for the time and effort Alan devotes to the Federation, producing fantastic results. We are looking forward to continuing to work with passionate members such as Alan and other relevant bodies to help the industry progress together."
OTHER ARTICLES IN THIS SECTION