Space saving storage
27 May 2015
Safety Unlimited's DPSU96/16PBC drum storage unit allows the user to store 96 x 205 litre drums, such as 24 pallets, or 24 x IBC's, two deep, on two levels.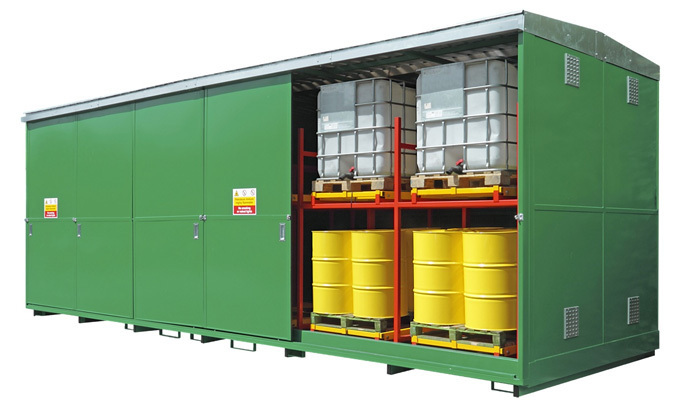 The push back loading system enables the user to load and unload the unit without the need for fork lift extensions, and eliminates the need for doors on both sides of the unit, therefore saving valuable space.
Place the first pallet/IBC, on the Pushback cradle. Then push the next pallet/IBC that you want to load, back against the first one. When the front pallet/IBC is taken off of the shelf, the pallet/IBC, at the back of the storage unit, automatically glides to the front.
This design is based upon a safe, and proven, system used in pallet rack systems.
These units are manufactured in the UK to comply with current Environmental and Health & Safety legislation, are fully bunded, have high and low Flame arrested ventilation. They are available in several different sizes, with the option of sliding or roller shutter doors. Units can be manufactured to meet a company's exact specification. Fire rated versions are also available.
All units have a fully galvanised roof and rain gutter, to prevent corrosion, and they are internally and externally finished in a chemical resistant two pack acrylic paint system.
OTHER ARTICLES IN THIS SECTION