Home
>
Dangerous distractions
ARTICLE
Dangerous distractions
11 September 2014
Steve Chesworth, MD of The Fuel Card Group, is bringing to the attention of the company's fleet customers, and the wider business community, the most common distractions for UK motorists that have been highlighted in new research published by the AA.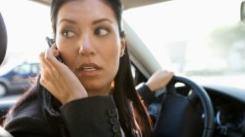 He said: "The AA's findings suggest that almost two-fifths of UK vehicle owners admitted to having been distracted at the wheel during the last 12 months."
Major causes of a lack of focus are fiddling with the radio (16%), being distracted by children (14%), operating a sat-nav device (13%), being involved in a conversation via a mobile phone (12%) and eating at the wheel (9%).
Chesworth concludes: "Businesses are responsible for ensuring that their drivers are given guidelines and training so that they can avoid these kind of dangerous distractions, especially the use of mobile phones, as the AA have shown that their use is one of the most likely distractions to kill."
RELATED ARTICLES
No related articles listed
OTHER ARTICLES IN THIS SECTION