ARTICLE
Lifeline recognition
21 July 2014
Capital Safety's Nano-Lok edge Self Retracting Lifeline has been voted the 'Experts Choice' winner in the concrete construction equipment category at the '2014 Most Innovative Products (MIP) Awards'.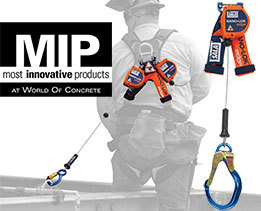 Held annually at Hanley Wood's World of Concrete, the MIP Award programme allows attendees and audiences of media titles Concrete Construction, Masonry Construction, and The Concrete Producer an opportunity to vote for the products they judge as innovative.
A panel of industry experts, many of whom serve on the World of Concrete Educational Advisory Board, reviewed and selected the MIP Award winners. The editors of the media titles reviewed and selected the products based on the innovation they bring to the industry.
OTHER ARTICLES IN THIS SECTION