MEWP guidance
12 June 2014
Using accident statistics generated via IPAF's online accident reporting platform, Mentor presents a brief look at MEWP safety targeted at some of the main areas for improvement.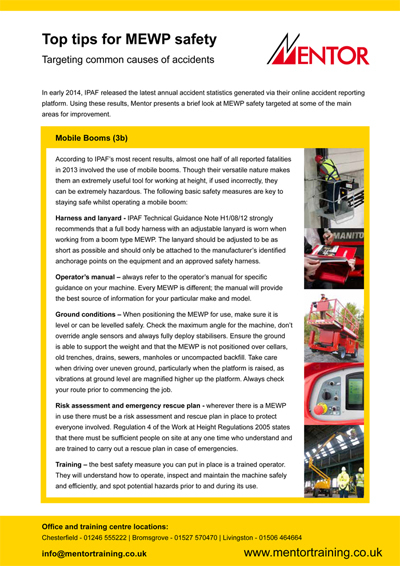 Almost half of all reported fatalities in 2013 involved the use of mobile booms. The versatile nature of this type of equipment makes it an extremely useful tool for working at height, but if used incorrectly, it can be extremely hazardous. Most common among other areas of concern across MEWPs of all types were overturn, falls from height, electrocution and entrapment.
Mentor's quick reference safety tips provide those working on or around MEWPs with some best practice guidance on all of the above. Download your free copy at www.mentortraining.co.uk.
OTHER ARTICLES IN THIS SECTION