Home
>
The premium solution to edge protection
The premium solution to edge protection
06 September 2013
Safesite Limited has launched the new KeeGuard Premium roof edge protection system.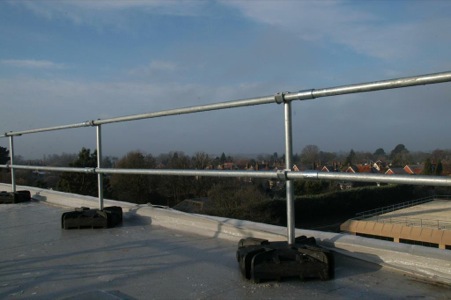 KeeGuard Premium provides an innovative and unrivalled approach to guardrail systems. Designed as a modular, free standing system, a key benefit of KeeGuard® Premium is that it does not require counterweights along the full run of the system. This provides the ideal solution for areas where traditional counterweights are unsuitable or potential trip hazards are a concern.
The system features unique 2-part interlocking recycled PVC base weights which can be split in two to allow a single person to carry the weight. Weights can also be easily carried completely assembled by two people using the specially designed moulded handles.
Safesite's KeeGuard Premium is fully tested to EN 13374 and can be installed as a permanent or temporary edge protection system on roofs of up to 10° pitch.
The addition of the new KeeGuard® Premium to its range of edge protection systems, provides Safesite with greater flexibility when offering customers a choice of solutions to their fall protection requirements.
RELATED ARTICLES
No related articles listed
OTHER ARTICLES IN THIS SECTION