Fixing up new testing capabilities
16 May 2019
Fixed appliance testing is often overlooked by business owners, according to Seaward, yet it should be an essential part of a company's regular electrical testing routine.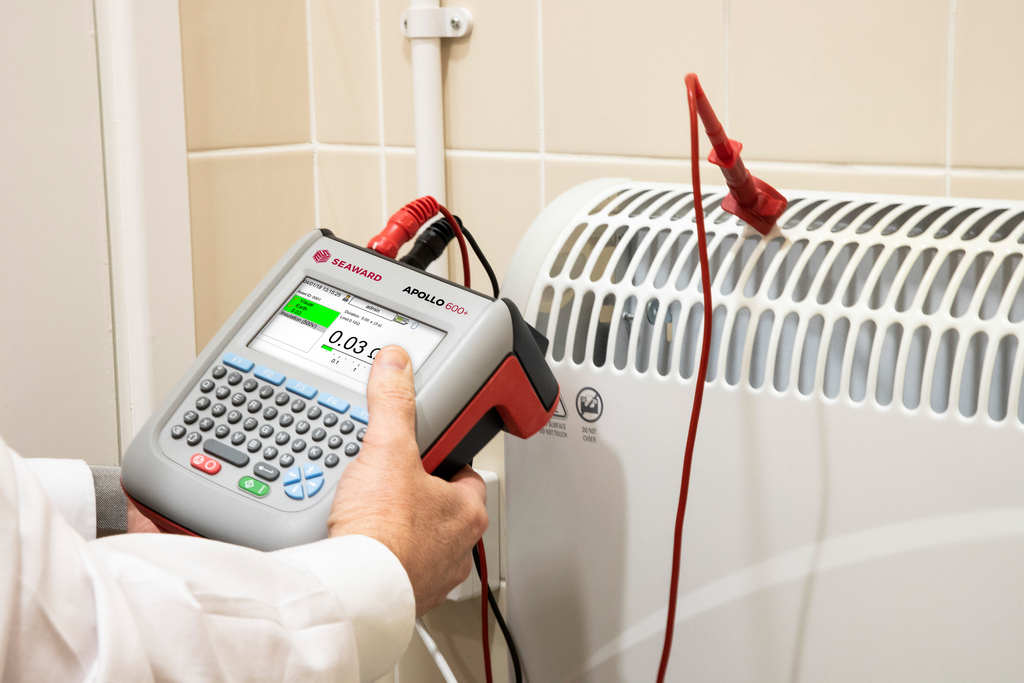 The lack of clarity on whether fixed appliance tests should be carried out with PAT tests or when the fixed installation electrical installation condition report (EICR) is completed, means that the testing of fixed appliances is often overlooked completely. While PAT only covers individual items such as kettles, microwaves and computers, fixed appliance testing extends to any electrical equipment which is permanently wired into the building.
And unlike PAT tests on portable equipment which are relatively quick and simple to carry out, fixed appliances such as hand dryers, storage heaters and cookers can pose a logistical challenge due to the installation's fixed wiring.
But that doesn't mean a simple visual inspection is enough – they should still be subjected to a full combined inspection at test intervals determined by a risk assessment.
Kevin Smith, test and measurement category manager at Seaward, says: "It's easy to take for granted that the fixed appliances that we use daily at work and home are safe, but just like any electrical item they are subject to wear and tear.
"Many faults can't be detected during a visual test – despite them being potentially very dangerous.
"A loose connection or damaged wire can cause a serious fire, so we really can't underestimate the importance of carrying out thorough testing on these items, just as we do with portable appliances."
So what are some things to bear in mind when carrying out fixed appliance testing?
Many people who are trained and qualified to undertake PAT testing are not competent to safely isolate the supply of fixed equipment.
Unlike appliances which can simply be unplugged, fixed equipment must be fully isolated and locked off before being checked with a lock-off device.
Kevin explains: "It's essential that fixed appliance and equipment testing is carried out by a competent person, in accordance with the specific tests for a particular class of equipment."
Seaward's Apollo+ series PAT testers include programmed sequences for fixed appliance testing, making it a suitable choice for engineers who require point-to-point capabilities in their device.
The Apollo+ series builds on the success of its predecessor with a range of new features and improved functionality, including updated software designed to speed up testing times.

Kevin says: "The Apollo 500+ and 600+ both include built-in point-to-point functionality in addition to PAT options, making it an ideal solution for engineers who are qualified to carry out both PAT and fixed appliance testing."
The new Apollo+ models are also boosted by new accessories, including an external rechargeable battery pack – welcome news for high-volume users who will now be able to recharge their devices on-the-go, extending their operation time.
Users will also enjoy enhanced interface functionality, including customisable operator permissions, advanced search options and the ability to quickly navigate results.
As with the original series, Apollo+ devices can be used alongside Seaward's easy-to-use health and safety reporting software, PATGuard 3.
Kevin continues: "How often fixed appliance tests are carried out will depend on the appliance – that's why it's so important to conduct a risk assessment as part of the testing process.
"Apollo+ series devices include risk assessment and risk-based retest calculator features, allowing engineers to easily determine a risk-based suggested retest period in line with the IET 4th Edition Code of Practice."
Another new feature is Seaward's revolutionary 2D (QR) code label format that allows huge amounts of data to be stored optically and then retrieved by the device – so there's no need to upload previous results before starting a new test.
The new labels will be supported by a new app, Seaward QR Data Viewer, which gives end users such as facility managers the ability to quickly access device data and appliance details during PAT audits.
For people who want to learn more about electrical testing, Seaward offers a range of free webinars aimed at helping engineers improve their skills and keep up-to-date with the latest information.
Seaward hopes the webinars will give people the chance to widen their knowledge of appliance testing and keep up with industry standards – as well as providing hints and tips for those who are new to the electrical safety tests.
The on-demand sessions cover topics such as legal requirements, industry guidance and common practice, how to perform risk assessments, how to test fixed appliances and how to improve safety standards – and new ones are added regularly.
Kevin explains: "We believe our customer care is second to none and this is just one of the ways we can help those working in the electrical testing industry.
"From helping them choose the right tester to offering specific training for topics such as fixed appliance testing, our webinars are ultimately about sharing our knowledge to keep people safe – a responsibility we take very seriously.
"We regularly update our PAT equipment and it is important that we give our customers the chance to keep up-to-date with the latest technology."
OTHER ARTICLES IN THIS SECTION