Coates safety success
05 February 2018
The nationwide family firm of H.W. Coates' core market is the warehousing and transport of packaged chemicals.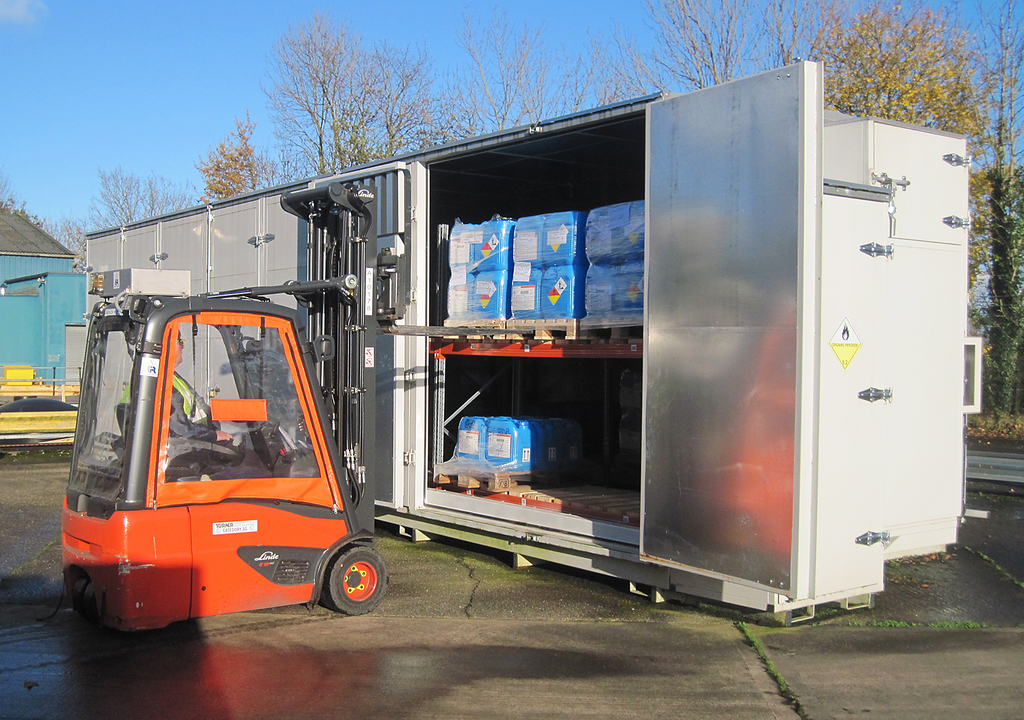 The company is the market's leading and most respected operator and serves the majority of the major names in global chemicals through its network of Upper Tier COMAH sites. Coates' strength is the ability to take the long-term view. They have built up the business over fifty years and have invested at every stage in the highest quality vehicles, leading edge IT and freehold property. The company is committed to continuous innovation to serve customers better – as witnessed by the leading role in the Hazchem Network.
This focused outlook was recently perfectly emphasised by the investment in a bespoke 9000 litre Organic Peroxide storage unit from the noted specialist manufacturers Safety Unlimited. The unique specification reads like a definitive check list for how such a unit should be best designed.
The overall size is 10.5m x 3.2m x 3.2m (L x D x H) produced from 2.5mm profiled white Steel Sheet over 50mm x 50mm x 3mm RHS tube. The base of the storage unit rests upon 100mm x 50mm x 3mm RHS bearers to prevent contact with the ground, prevent corrosion, and allow air flow under the store. Compliance with HSE Guidance Note CS21 - The Storage and Handling Of Organic Peroxides - plus Environmental and Health & Safety legislation is intrinsic.
Flame Arrested high and low ventilation is enhanced by Action Air fire dampers, which automatically close in the event of a Fire Alarm backed by 90 Minute Fire Rating. The walls, roof, door, floor and 330mm deep fully welded anti-corrosive sump areas feature 100mm of Rockwool Firebatt insulation. Adjustable pallet racking provides a versatile multi level storage system. Correct temperature is of course vital; EX Rated, Zone One, totally safe Temperature Control Equipment maintains an internal set point range down to 0 degrees C.
Air is re-circulated within the storage unit via galvanised ducting. The temperature control equipment includes an Ex Rated, ATEX approved, intrinsically safe Jumo Temperature probe plus an alarm facility within the control panel. The temperature control equipment is housed within its own lockable service compartment whilst supported by 6 x Intrinsically Safe, EX rated, Zone One, IS fire detectors wired via a Galvanic barrier to an external termination box.
The crucial fire system from Safety Unlimited is worthy of note in its own right, led by total flooding fixed pipe and nozzle distribution network water mist fire suppression apparatus. When applied to a fire it would suppress the fire and help to prevent escalation. The Fire Detection Control Panel is located in an enclosure mounted externally to the container with mains powered battery back-up. There is also a Dual Zone, Double Knockheat detection system coupled with Pre-release time delay and warning sounder/beacon in tandem with a Post-release warning sounder/beacon as well as Damper control on fire detection. The Fire Detection Control Panel alarm connects to the plant fire alarm system.
Safety and easy accessibility feature; 6 x 500 watt LED flood lights, mounted externally on the front of the store, are angled to illuminate the front and inside of the storage unit and wired to an external PIR detector, which will activate the lights when the store is approached by a fork-lift truck or people. All electrical equipment is wired to a 230v, single phase, externally mounted, weatherproof RCD protected consumer unit. The highly convenient 12 x hinged doors are fitted with intumescent seals and have a padlock container type locking mechanism on both of the 10.5 m sides of the unit. A galvanised pitched roof is designed to lift up in the event of an explosion within the unit. And all finished in Chemical /Corrosion Resistant paint.
HW Coates director, Matthew Coates, is very pleased with this important acquisition. "We are one of a few companies properly equipped to store refrigerated hazardous chemicals," he said. "The unit from Safety Unlimited perfectly fits the brief, meeting all our regulatory and internal safety procedures. It is an excellent addition to our largest UK Upper Tier COMAH site. Safety Unlimited were a known and trusted supplier and the brief was to replace an existing, older, less specified storage unit. They have really thought of everything and touches such as the external fire extinguishers and air condition systems plus the advantage of multiple doors confirm the ideal choice of supplier. The unit stands out in respect of best practice and given the demand for organic peroxide storage I can see a rapid and proven return on investment, to the extent that we are already considering ordering another similar product from Safety Unlimited."
OTHER ARTICLES IN THIS SECTION