ARTICLE
Identicom update
21 July 2017
Lone worker solution provider, and device manufacturer, SoloProtect, has announced an update and immediate rebrand to the Identicom lone worker device.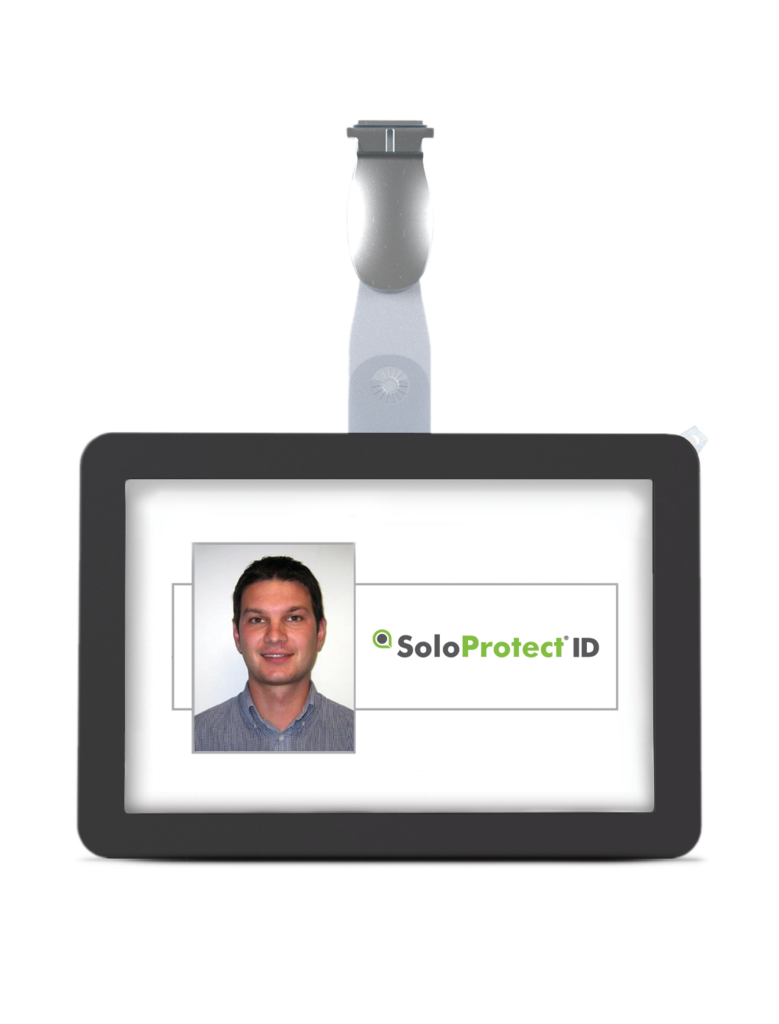 Identicom, which has had several product iterations since launch in 2003, remains the most widely-used dedicated device for lone workers in the UK, and has now been to supplied to over 200,000 lone workers world-wide.
The product's new name is, "SoloProtect ID" and has been updated both in-line with the scheduled release of a new device variant, and to increase brand-resonance within key International markets in which the company also operates – principally the USA, Germany, France and The Netherlands.
In terms of physical appearance – only the device's colour is the immediately noticeable update. SoloProtect ID makes a switch to a Charcoal Grey colour, in contrast to the Blue employed by the Identicom 8 Series range (which is now withdrawn). However, the device retains its discreet operation, and ID badge form factor, which remains key to user-popularity.
It is with regards to functionality and product specification, that the SoloProtect ID has a number of improvements differentiating it from the 8 Series Identicom, however. By utilising enhanced GNSS (Global Navigation Satellite System)and A-GNSS (Assisted GNSS) technology, the device will significantly reduce the 'Time To First Fix' (TTFF) i.e. the time taken to connect to a satellite, in order to calculate a position.
This represents a genuine innovation in the lone worker market, with the SoloProtect ID being the first device to utilise both GNSS and A-GNSS technology within a fully managed, 24/7 supported lone worker solution. This will ensure better reliability as workers are increasingly mobile – moving indoors to outdoors, moving to a vehicle, journey time and arriving at a next appointment – giving a much higher likelihood of maintaining an accurate location fix for the lone worker.
GNSS also future-proofs the product platform for several years, as global development of multiple systems alongside GPS continues (including GLONASS, Galileo, and Beidou) . This will serve to improve a user's experience, but also increase accuracy and speed to confirm a location during a 'Red Alert' – which is key when handling a lone worker alarm, and requesting a dispatch to the Police. SoloProtect ID will also deliver greater reporting benefits as a result.
The updated device retains 'Secured By Design' status, from Police Crime Prevention Initiatives Limited, which is the UK Police flagship initiative for designing out crime. In the UK, all SoloProtect IDs supplied directly by SoloProtect, will be part of a BS 8484:2016 accredited solution and receive 24/7, EN 50518 accredited, Alarm Receiving Centre support.
Craig Swallow, Managing Director, SoloProtect UK, commented: "The launch of the SoloProtect ID device marks the start of an exciting twelve-month period at SoloProtect. We're continually looking to deliver a product range that offers more to our customer base, this represents the first step in that process."
OTHER ARTICLES IN THIS SECTION