ARTICLE
Personal heat alarm
20 July 2017
With weather forecasters predicting a long, very hot summer in many part of Europe this year with several health-threatening heatwaves, people are being advised to ensure they avoid heat stroke, dehydration and illness. However, not everyone recognises the danger signs, which is why the new smart personal heat meter from Tanita can help people avoid succumbing to the heat.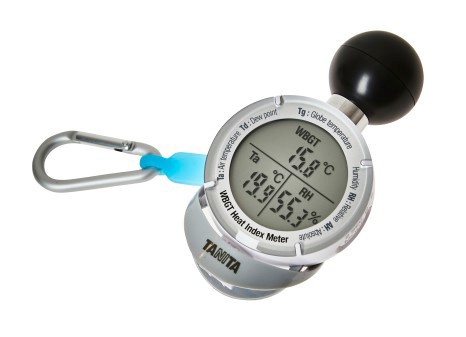 "People all too often ignore the early symptoms of heat exhaustion and the need to rehydrate or just don't recognise the signs quickly enough," said Jan Alderlieste, Tanita chief operations officer in Europe, the Middle East and Russia. He noted that over-heating can occur even when a thermometer is showing a near normal body temperature.
Tanita's TT-563 WBGT is a convenient, easy and affordable way to use a monitor that allows you to determine the safe levels of physical exertion when working outdoors. Simply place the TT-563 in direct sunlight to monitor temperature, humidity and solar radiation and see the results displayed within seconds.
The small hand-held design can be carried on your body or attached to a rigid fixture. Results are displayed in real time, with programmable audible alarms.
OTHER ARTICLES IN THIS SECTION