ARTICLE
Non-slip decking
08 March 2017
The winter months are tough on many surfaces, and with the low temperatures and wet conditions it's no surprise that so many wooden bridges suffer from rot and dangerous slippery conditions. This leads to higher levels of accidents and injuries.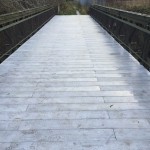 Anti Slip Treads (Polydeck) is a supplier of restoring and repairing surfaces to make them safer for pedestrians; preventing accidents with its high quality range of non-slip products.
GRIPFAST Anti Slip Bridge Decking can be used to repair and restore bridges. Unlike traditional timber decking, which can be prone to rot in the harsh winter weather, this new concept uses a Glass Reinforced Polyester (GRP). The technique allows Anti Slip Treads to reinforce or restore an unsafe bridge to a non-slip quality whilst maintaining its original natural timber effect.
Anti Slip Treads provides a GRIPFAST guarantee of a 30 year design life on all of its products.
OTHER ARTICLES IN THIS SECTION