ARTICLE
Explosion protected forklifts
06 February 2017
Kommerling UK has improved safety and productivity at its Lancashire site with a new fleet of explosion protected forklifts. A switch from a "Zone 1" reach truck to "Zone 2" has also helped to greatly reduce costs.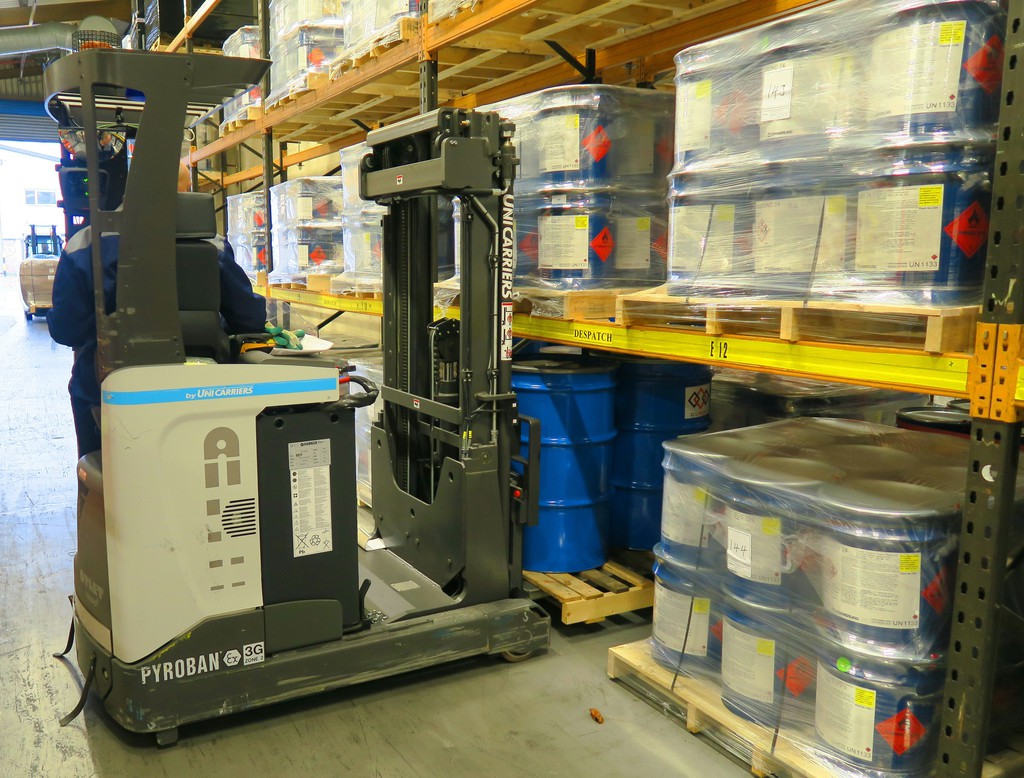 "We are storing a variety of flammable, solvent based materials in IBC containers, plus 200 litre and 25 litre drums, to be used in our manufacturing process," said Mick Ollerton, warehouse manager at the Kommerling site in Preston. The company's main activity at the site is the manufacture of the CILBOND range of high-performance primers and bonding agents for automotive applications.
To ensure maximum safety, the company has introduced four new explosion protected reach trucks to the raw materials warehouse which is formally classified as a Zone 2 hazardous area. Undergoing a complete explosion protection conversion by Pyroban, the UniCarriers TERGO reach trucks now feature system6000 to ensure they cannot be the source of ignition if a flammable vapour is accidentally present.
Pyroban's system6000 detects the wide range of potential hazards using pellistor based gas/vapour sensing technology. The system warns the operator and safely shuts the reach trucks down when any vapour starts to approach dangerous levels. In addition, the reach trucks are used in the finished goods store where there is also a mixture of different flashpoints, temperature classes and material characteristics.
"Through risk assessments and a small change to our process, we were able to replace the Zone 1 truck with a new Zone 2 truck," Mick said. "By doing this, we have reduced the overall cost of ownership of the fleet and also improved safety by being able to alert operators to a problem."

OTHER ARTICLES IN THIS SECTION