ARTICLE
The Evac+Chair for emergency evacuation
15 September 2016
UK based Evac+Chair International describes itself as the world's leading supplier and original manufacturer of evacuation chairs.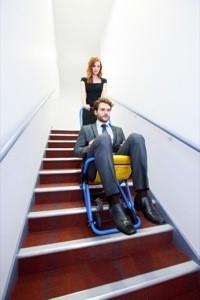 The chairs are designed to accommodate disabled or mobility impaired people, allowing them to descend a staircase(s) in an emergency situation without the need of great physical strength or lifting. They are able to provide free on site surveys where they will analyse your fire exit routes and suggest the best chair for your stair ways.
Evac+Chair provide comprehensive training and education to ensure the effective use of its products, instilling confidence and safety to disabled or mobility impaired users and those assisting. Each training session is tailored to suit a specific range of highlighted risks. An employee who receives the Evac+Chair Key Trainer Masterclass training can then competently train other employees within a workplace.
With over 20 years' experience, Evac+Chair have become a leading specialist in emergency evacuation, ensuring their customers comply fully with health and safety regulations. This can range from providing products, advising on the legalities that surround evacuation planning and deployment to specific training and regular maintenance.
To get your free site survey visit www.evac-chair.co.uk
Stand F2
OTHER ARTICLES IN THIS SECTION