ARTICLE
Underslung crane installation
29 July 2016
For lifting applications where headroom is limited underslung cranes are often a way to get more from the available space, letting you complete the task in hand without the need for major structural alterations.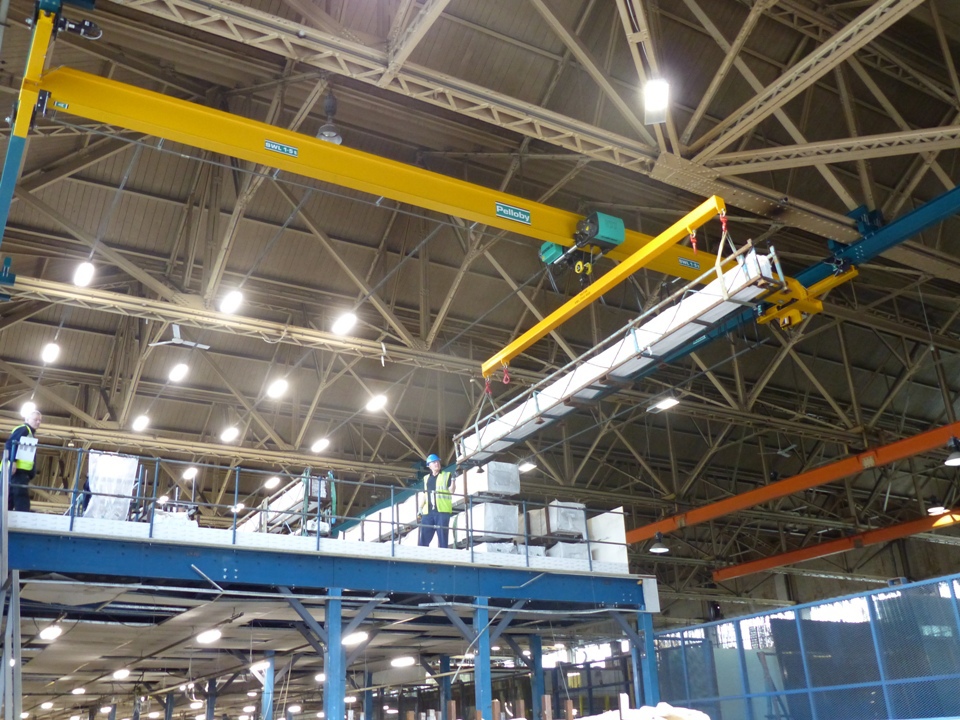 UK crane manufacturer Pelloby recently installed an underslung overhead crane system at leading window specialist Anglian Home Improvements for this very reason.
Stillages used to handle glass which are delivered to part of Anglian's Norwich manufacturing plant through a ground level roller shutter door, needed to be transferred to a mezzanine floor for processing. However, as these stillages were to be stacked in bays of up to three high on the upper level this left a very limited amount of space between the top rung of stillages and the building's ceiling. A traditional overhead crane design simply would not have been able to operate within this space so Pelloby decided an underslung crane system was a more suitable solution.
The cranes' gantry rails, located at either end of its 12000mm girder span, were attached directly to the existing roof structure. The end carriages of a regular or top running overhead crane would ordinarily sit above these gantry rails, however this underslung design meant that they instead ran below these supports to better utilise the space available.
The result was that the crane's single girder beam was able to move along the rail freely, allowing operators to quickly and easily move goods of up to 1.5 tonne safe working loads between the ground level and mezzanine floor via a radio controlled handset.
"We've worked with Pelloby in the past on multiple crane installations and so we knew that they had the design capabilities to meet our needs on this job. From sending a representative to site to take measurements to installation and final commissioning, Pelloby kept our requirements in mind throughout the project." - Anglian Home Improvement Production Engineer, Mike Jobling.
If you think your workplace could benefit from the installation of an underslung crane, find out more at www.pelloby.com
OTHER ARTICLES IN THIS SECTION