ARTICLE
Revised diploma courses
20 April 2016
In line with the new specifications for the National and International Diplomas in Occupational Health and Safety published by NEBOSH in November last year, RRC has completely revised and updated its Diploma courses and textbooks.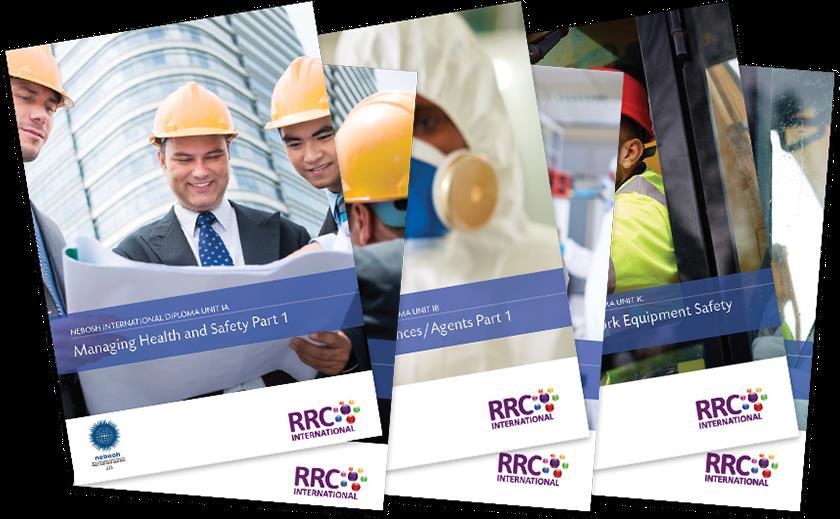 Over the last six months, RRC's technical course content was developed by a team of seven highly experienced HS&E and training specialists, including the recently retired chair of the NEBOSH Diploma panel and two NEBOSH principal examiners.
As well as updating the technical content of its courses RRC completely redesigned its textbooks and e-learning courses. The latter now feature all new application and review exercises, which help students go beyond the simple accumulation of surface knowledge to develop the deeper understanding required to be successful – both in the NEBOSH exam and their careers as HS&E leaders.
RRC's textbooks have been transformed, thanks to a fresh, clear design and new content. The books provide comprehensive coverage of the new NEBOSH syllabi and enhance the learning experience with the use of clear definitions, useful hints and tips, and references to further sources of information.
The NEBOSH Diploma sets the standard for professionals serious about a career in health and safety. In revising the syllabus, NEBOSH consulted widely with students, employers, professional bodies, course providers and principal examiners to ensure the Diploma qualification will meet the needs and challenges of industry and practitioners for the next five years.
Full information on the changes to the National and International Diploma syllabi, and how they affect current and future students, is available on the RRC website. Free downloadable samples of RRC's new textbooks, and a free trial of the company's online Learning Centre, are also available at www.rrc.co.uk
OTHER ARTICLES IN THIS SECTION