Protect your assets this winter
07 December 2015
The arrival of winter means companies have to deal with an important task: protecting goods needed for production from frost and weather damage, for example additional materials or additives.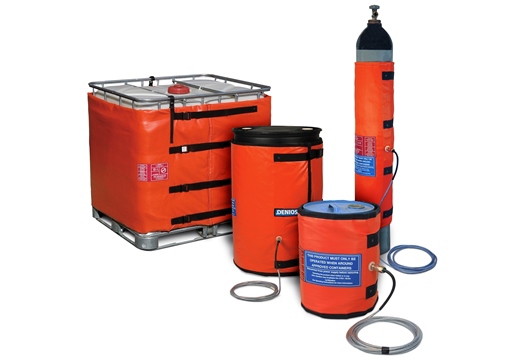 Winter operations on company premises are another area facing the same concerns every year. What are my duties? How do I protect my employees? What is available to help me? DENIOS has taken a close look at these concerns and offers a wide range of suitable products.
The well organised allocation of tasks is indispensable for safe winter operations. Areas which have not been cleared or icy loading ramps can lead to serious accidents; and it's the company which is liable for these risks. Even operational processes can be susceptible to disruption. The employer has a duty, just as in other areas of safety, to ensure outdoor areas and thoroughfares are clear. This applies during winter operation too. First of all, the persons responsible for this task need to be appointed and they need to be trained in the current regulations. A set time quota needs to be allocated to cover their winter operations work and clearly defined tasks will prevent misunderstandings. These representatives must also be aware of which areas of the company premises need to be made safe and how this is to be done.
It is important to ensure that there is enough grit available on your premises and that it has been stored correctly so it's dry and easily accessible. Weather-resistant grit containers should be set up at all central points on the company premises. No employee should carry out winter operations without grit, snow shovels, gloves and high visibility protective clothing for working in the dark. Whatever applies for external areas is also applicable when snow and water get brought into buildings. Anti-slip matting absorbs damp and reliably ensures access areas are kept safe. Slippery floors and areas which do not need to be cleared must be identified. Special measures must be taken for operating equipment which needs to be protected from the weather.
For example, DENIOS recommends customers use heating jackets to keep valuable production materials at the right temperature over winter. Drum heaters and heating belts for IBC containers and 205 litre drums bring substances to the right processing temperature when it's cold outside and are suitable for single containers.
Frost-protected chemical stores and heat chambers are recommended when storing multiple containers and will protect your resources from the cold, even outdoors, both effectively and economically.
OTHER ARTICLES IN THIS SECTION