ARTICLE
Vital ID – Worker Safety ID hit the 1 million milestone
17 September 2015
Vital ID, a world leader in Worker Safety ID, are proud to announce that in Q4 2015 their 1 millionth ID for hard hats will be in use, helping to save a life somewhere in UK.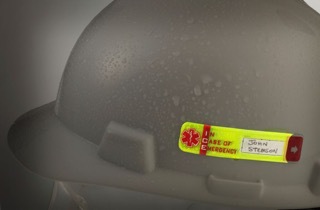 Launched in 2009, Vital ID products have gone from strength-to-strength year-on-year as they have come to the attention of Health and Safety professionals across a broad range of industries, particularly in blue-chip organisations.
Worker Safety ID has been used extensively on major projects in recent years, such as, the Olympic site, Cross Rail and Heathrow T2.
Recently an eight-language version of the hard hat ID has been launched for European clients. Later in 2015 Vital ID will bring to market a new hard ID product and an enhanced version of their Universal Fit ID.
Treive Nicholas, Director, Vital ID says 'We're grateful to the UK Health and Safety Community for their contribution in shaping our product range and adopting Worker Safety ID so enthusiastically over the last few years.'
For more information visit www.workersafetyid.com
OTHER ARTICLES IN THIS SECTION