Quick off the mark
13 August 2015
Two boom lifts from the AFI fleet were hired by Littlehampton Welding to help erect and dismantle a 40m high sculpture at the Goodwood Festival of Speed.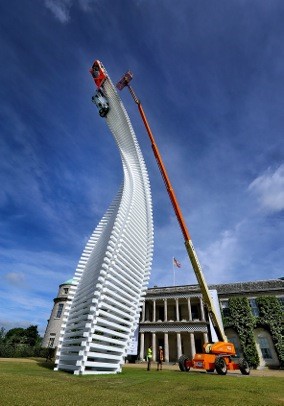 Speed was a factor in the concept of the sculpture and also in the type of boom lift chosen for the project. The sculpture featured two Le Mans racing cars and one of the boom lifts, the JLG Ultra 1350 SJP, is also very fast in powered access terms – it can raise its platform from ground level to 135ft in just 95 seconds. The 120 tonne metal sculpture was made up of 720 stacked steel beams, totalling 1,235m if put end to end.

Alex Neighbour, Littlehampton Welding Contracts Manager, said: "As well as the Ultra boom we also hired a Genie S125 telescopic stick boom. They gave us quick and flexible access which was very important to meet the challenges of assembling and disassembling the sculpture."

Supplied by AFI's Southampton depot, the JLG 1350 SJP and Genie S125 have working heights of 43.15m and 40.15m respectively.

OTHER ARTICLES IN THIS SECTION