Home
>
Providing a legacy of protection
ARTICLE
Providing a legacy of protection
04 May 2014
Steel company Severfield Reeve has been using Dupont coveralls to protect its workers from hazardous industrial paint for sixteen years. Here the company discusses the importance of having strong relationships with their key suppliers and explains the beneifts this brings to them as a company and the manufacturer themself.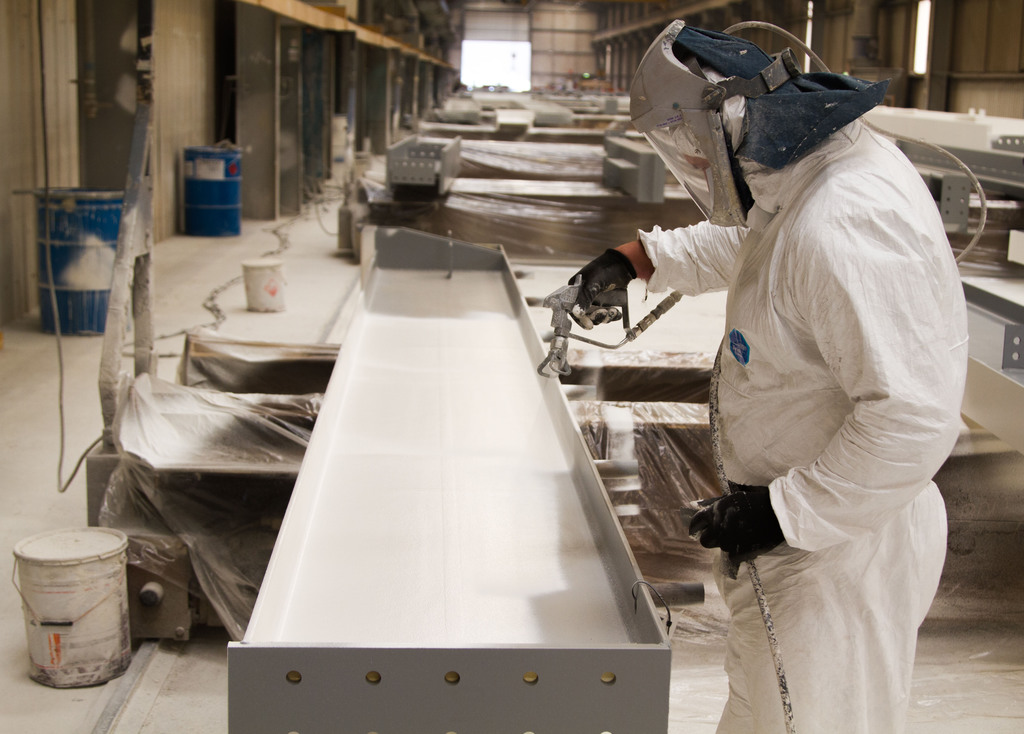 For over 30 years Severfield Reeve has been facilitating the production of a wide range of steelwork development, including basic structural work and complex engineering projects, with over 1,200 employees across the UK. Recent projects include the 2012 London Olympic Stadiums, the Shard and the London 'Cheesegrater'.

Towards the end of the fabrication process, each item of steel has to be coated in a spray of industrial paint, a job that can be both messy and hazardous if workers are not adequately protected. The most common use of industrial paint is for corrosion control of the steel structures, as well as fire resistance and aesthetic purposes, and is an integral step in the process of steel fabrication for Severfield Reeve. Chemicals within the industrial paints can permeate the skin and increase the quantity of chemicals in the blood. Paint can also cause irritation, burns and occupational dermatitis if skin is exposed.
Over the past 16 years Severfield Reeves has been providing its employees with protective coveralls made from DuPont Tyvek to protect both the workers and the paint during the paint spraying process. Shaun Watson, stores manager at Severfield Reeve, explains: "Each day our employees are working in large industrial scale hangars, moving up and down the building alongside huge pieces of steel and spraying each section with paint. Paints used in the steel industry contain additives which could present significant risks to our workers, if they are exposed to the spray. It is vital that our employees are protected from these harmful substances. At the same time, it is really important that the paint process is conducted in a clean environment, free from dust, lint and other fibres that may be found in our employees clothing. So the coveralls have a dual purpose, protecting people from exposure to hazardous chemicals at the same time as protecting the process from contamination."
Shaun continues: "Severfield Reeve has developed an excellent working partnership with DuPont Personal Protection over many years and they understand the risks we are working with and how to provide the best protection. In this time DuPont has offered guidance on protective coveralls, ensuring we get good value for money as well as giving our employees a superior level of protection. DuPont has also gone the extra step and worked with us on site, measuring workers for the right sized coverall and offering expert advice on safety improvements. DuPont has also provided training to ensure each employee understands how to correctly don and doff their protective coveralls to give maximum protection and reduce the chances of cross contamination. In the past we have trialled other protective coveralls, however nothing compares to the comfort and durability of the Tyvek Classic Xpert coverall and as a result our employees won't wear anything else."
Neil Sutherland, UK account manager, at DuPont, explains: "The Tyvek brand really has stood the test of time with Severfield Reeve and the company played an important role during the development of the new Tyvek Classic Xpert garment. A group of workers tested it during wear trials to help improve the seam construction, contributing towards the refinement of the new patented seam technology specific to DuPont. After using the Tyvek Classic coverall for just over ten years, we upgraded the suits to Tyvek Classic Xpert to give an even greater level of protection and comfort, with employees favouring the improved freedom of movement and protection it has to offer, essential in this working environment."
Tyvek Classic Xpert was introduced by DuPont during 2012 to provide superior levels of protection and comfort in the Type 5 and 6 categories. Its new design and construction holds out more than 99% of fine particles, and is more liquid-tight than its predecessor. It is lightweight and durable.

RELATED ARTICLES
No related articles listed
OTHER ARTICLES IN THIS SECTION